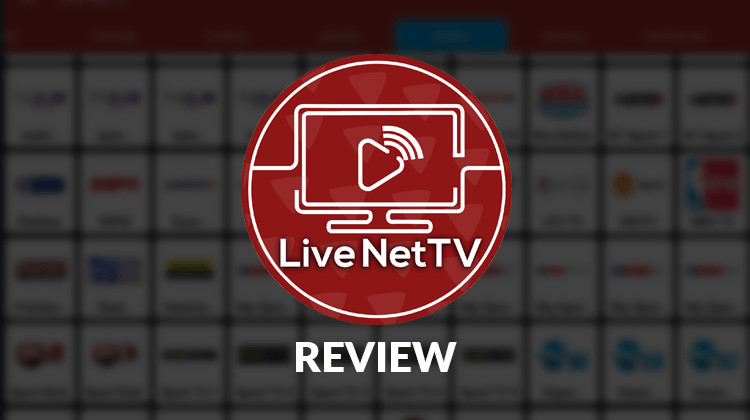 Live NetTV is a super simple, easy and fun app for streaming television over the Internet. Check here our Review of Live NetTV Android Apk.
What is Live NetTV?
Live NetTV is a super simple, easy, and fun app for streaming television over the Internet. It's really easy to install and setup (take a look at our simple 5 step guide) and it works across pretty much any Android device.
Compatibility & Installation
Live NetTV is compatible with the Android OS and devices running this OS. This includes devices like the Fire Stick, Fire TV, and your more standard Android boxes. The developers indicate that it will actually install and run on Android Auto but I've not tested on that in person
Windows users can utilize the bluestacks emulator to emulate an Android device, which is worth doing for more than just this app as it gives you access to everything on the Play Store too!
Installation on Android Devices
To install Live NetTV you first need to manually allow the installation of apps from unknown sources. Simply go to settings and then scroll down to security and select Unknown sources. You can unselect this after you've completed your installation.
Once this is done – simply navigate to the Live NetTV website (https://www.livenettv.bz/) and click on the Download button. Double click on the downloaded file to install it on your system … and … you're done! That was pretty easy, wasn't it!
Installation on a Fire Stick
Installation on a Fire Stick is only slightly more complicated. The main difference here is that you need to use the downloader app first to actually navigate to the Live NetTV website. Full installation instructions are provided in our post on Live NetTV Installation and Setup on a Fire Stick so just click the link to take a look.
Features and Channels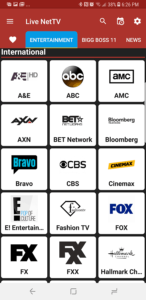 There are 9 main categories for the channels in Live NetTV and they are distributed as follows:
Sports (154 channels)
Entertainment (211 channels)
News (99 channels)
Movies (86 channels)
Documentary (19 channels)
Cooking (9 channels)
Music (36 channels)
Kids (37 channels)
Religious (34 channels)
However, the key point to recognize is that there are multiple different languages supported also (simply scroll up and down within a category to see more channels) so the depth of content within these 9 categories is simply huge!
In fact, in the time since I started this review, till now, they've increased their channel count by 200!
A full (current) count of channels by language in the main categories is provided below. One key point to note is that if you are watching a program or channel from a different country you will probably need to enable your VPN to get past the geoblocking that programmers put into place. I'll cover that in a lot more depth later on in this review but do try to keep it in mind.
| | | | | | | | |
| --- | --- | --- | --- | --- | --- | --- | --- |
| Category | Pakistani | Indian | International | UK | Arabic | Iran | Turkish |
| Sports | 3 | 21 | 93 | 2 | 20 | 1 | 14 |
| Entertainment | 38 | 28 | 29 | 58 | 25 | 20 | 13 |
| News | 36 | 28 | 9 | 5 | 16 | 2 | 3 |
| Movies | 10 | 30 | 14 | 14 | 14 | | 4 |
| Documentary | | 9 | | 7 | 1 | | 2 |
| Cooking | 3 | 4 | 1 | | | | 1 |
| Music | 5 | 15 | 7 | | 5 | | 4 |
| Kids | 1 | 11 | 10 | 7 | 4 | 1 | 3 |
| Religious | 22 | 1 | 7 | | 4 | | |
Now I cannot comment on all of the channels, but looking through the list, many of the most popular and useful channels are available.
In addition, while it's not really mentioned on their website – you will also find a category entitled "Big Boss 11" – this is an Indian reality TV show that seems to be loosely based on Big Brother. Additional language channels are also available from the following countries:
Thailand (24 channels)
Portugal (13 channels)
South Indian (33 channels)
German (20 channels)
Filipino (17 channels)
Australian (15 channels)
Punjabi (24 channels)
Afghan (33 channels)
French (26 channels)
Bangla (79 channels)
Nepal (13 channels)
This gives us a grand total of … 982 CHANNELS!!
Live Event Scheduling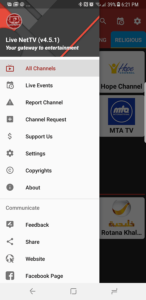 A new feature of version 4.5 (the most current update) is Live Event Scheduling – this gives you information on all of the upcoming games and matches at a glance and also AUTOMATICALLY puts you on the right channel! This is really intuitive and easy.
To access it, simply click on the menu (the three bars to the top left) and select Live Events. Navigate to the day you are interested in and select the event that you want to watch at the appropriate time.
Pro's and Con's
Pros
Extremely easy to install and setup
A very simple and intuitive user interface makes finding channels simple
Navigation to different genres is as easy as swiping right and left
Live Events is pretty much a game-changer as it simplifies considerably the effort of determining what match or game is on what channel and on what day. From the point of view of simplicity, they really couldn't make it any easier!
Cons
No EPG (Electronic Program Guide) so while selecting a channel is easy, you really do not know what you are going to get!
This could actually go in the Pro's depending on your point of view, but having to select from multiple streams vs a single stream that always works could be considered a negative.
It's an advertising-supported product so every now and then you'll need to watch an advertisement. It's a bit of a pain but not that bad in the grand scheme of things!
Security
As always whenever you stream content online you need to ensure that you protect yourself. One of the best ways of doing this is to ensure that you have a VPN in place between what yourself and the servers sending you information.
VPNs have two main functions when it comes to streaming content – the first is their ability to act as a filter between yourself and the outside world through the creation of a virtual tunnel. The content that you are streaming is encrypted and transmitted through this tunnel and is hidden from prying eyes.
The second feature is the ability granted by VPNs to make it appear as if you are elsewhere. Sounds confusing I know, but when you connect to a VPN you're able to connect to one in a specific country. This way whenever you're accessing content online it makes it appear as if you're accessing it from that country! This is great whenever there are specific channels or programs that are blocked based on their regions.
We always recommend Surfshark to all of our readers as it's a great tool and installs straight from the search button on the Fire Stick. We've actually negotiated an exclusive deal with Surfshark to give our readers a 82% discount!
Summary
Live NetTV is a simple and easy to use app that simply works. You can easily access and browse programs from all over the world at literally a touch of a button and the streams are all crisp and high quality.
The developers seem to be very responsive to feedback and take requests for channel addition directly through the app.
If you want a quick and easy way of accessing local content without having to pay exorbitant cable or network fees, Live NetTV should definitely be an arrow in your quiver!