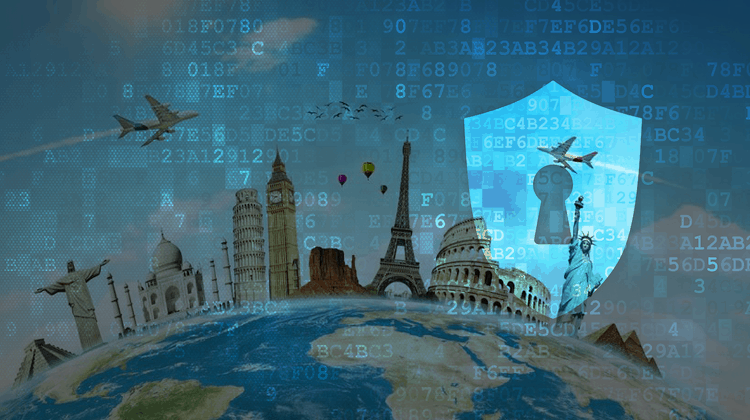 Top 6 ways to protect yourself from privacy breaches and data loss while traveling to other countries.
The term "theft" has been completely redefined in this new era of digital evolution. Today, it seems that humankind's most-prized possession is not money or commodities. It's data that can make or break individuals and companies. Data is a diverse term, and it can include passwords, important documents, communication logs, photos and videos – precisely everything that we carry around in our smartphones and laptops, which makes us very vulnerable to cyber thefts, especially when traveling. It has been observed that any device is ten times more likely to get hacked or breached when a person is traveling. This is because, in another country, people connect to public Wi-Fi hotspots at airports, hotels and restaurants, which can jeopardize their privacy.
Want to keep your security intact when you travel this summer? Just follow the guide below and learn how to protect yourself.
1- Make copies of all important documents
Nothing is worse than realizing that you have lost your credit card, passport, tickets, and wallet. It becomes extremely difficult to deal with such a scenario in a country that you may not know much about. It's only at moments like these when travelers regret not making copies of such documents. So, the first measure of securing your data and privacy is to make multiple copies for all important documents. Apart from the original documents, make sure you have at least one hard copy of all the documents, a photocopy is a great option. Once you have the photocopies, store them in an accessible pocket of your hand carry. Whenever needed present the duplicate documents and not the original ones, allowing you to practically cut down your chances of losing your original documents by 50%. Stash your original documents somewhere safe, but still accessible in your luggage, so that you can present them too if needed.
Pro travelers believe that just having just one duplicate of your documents may not be enough. To make another alternative backup of your documents, your smartphone can help you in a great way. All you need to do is take snaps of each of your document in a way that all the names and numbers are clear and then store these snaps on any online storage, such as Google Drive or Dropbox. Even if you lose "everything" you will still have these.
2- Set strong passwords
Today, each individual has dozens of different social accounts, profiles and credentials that represent a person's online identity. The problem is that most of us have as many as 26 different online accounts, but only five different passwords for all of them. This is why, when an individual's privacy gets breached while traveling, chances are that they will lose multiple accounts, instead of just one.
It's extremely important to have a unique, and complex password for all of your accounts. When a hacker tries to gain unauthorized access to any of your accounts, he will use a program to disable device blocking upon entering incorrect password multiple times. Then he would execute another program that will sequentially try every possible password combination to unlock your account. A weak password, such as one that has only six characters, all of which are in lower case, will only take 10 minutes to break. Meanwhile, a strong password, such as one that has nine characters and uses uppercase and lowercase letters as well as symbols and numbers can take as much as 44,530 years to break.
Coming to the uniqueness, of course it's impossible to remember multiple unique passwords for all of your accounts.
That is where password manager apps come in. There are many reputable password managers that can store all your credentials in encrypted format, giving you the capability to set complex and unique passwords for all of your accounts. This way, even if one of your account gets compromised, other accounts will still remain safe. Last but not the least, ensure that the devices you are carrying with yourself are password protected as well. Set a string passcode on your smartphone and laptop, and disable fingerprint login (more on that later).
3- Step up your VPN game
We are all familiar with how to get a VPN and what is it used for, and how to use it. It's a tool that can unlock the entire internet for you, even in places that are governed by strict cyber security laws. For instance, your favorite TV show may not be available to stream in the country you are about to travel to. By using a VPN, however, you can change your virtual location to that of another country and access your favorite content as easily as you can in your home. A VPN not only changes your virtual location, but also masks your IP address keeping your data extra safe, especially during traveling, from hackers and privacy breachers who are on the lookout to steal data and personal information from travelers. When people travel, they are 90% more likely to connect to the internet using a public Wi-Fi hotspot at an airport or a hotel, which increases their chances of compromising on their security by a great deal. Using a VPN gives you a new location and identity, making you invisible from hackers who may be looking for their potential targets connected to a public network.
However, even when you are using a VPN, there are a few instances that can compromise your security. For instance, if you are using a VPN to access your profile on a banned social media platform, the government or any monitoring authority can still trace you back. How? Well, if your internet connection drops for any reason while using a VPN, your real IP address is left exposed. So, as a precautionary measure, avoid accessing your most sensitive accounts in other countries, irrespective of whether you are using a VPN or not. Only use the VPN to unblock the internet and access geo-restricted content, unless it also offers Internet Kill Switch feature.
If you want to learn more about VPNs, check this article.
4- Get a burner phone or a laptop
A burner laptop or a phone is an old device that is lying around idle at your home and you may use it only when your primary device is out of order. However, switching priorities while traveling can help you a long way. How about leaving your primary devices at home and only taking this spare device with you when you travel? While your primary devices may be high-end, it's safe to assume that your burner device will be low-end, and will offer you only basic features that do a good job in keeping you connected. A device that is low-end has naturally very low chances of getting stolen.
But that is not the primary objective of using a burner device. Nothing is more horrific than losing all your important data along with your device while traveling. To avoid this painstaking issue once and for all, copy only relevant data on your burner device and just take that along. Moreover, a device with limited data only has high chances of speeding up your airport security checking process. Read the next point for more clues on that.
5- Be prepared for airport security checking
Nowadays, there's been an addition to the screening tasks that airport security would do when an individual reaches a country – data screening. For this, officers at the airport may ask you to unlock your smartphone and laptop to reveal your pictures, videos, and personal data. Despite the fact that this is very wrong and a blatant breach of privacy, airport security officials will force you to do it any how, as it is in their national interest to be extremely cautious when letting in unknown people of other nationality.
Rather than spending long hours at the airport, trying to give explanations and justifications for the content you have in your laptop and smartphone, why not get rid of unnecessary things when you can, while at home? Having a burner laptop and a smartphone is a great way to carry along only relevant data, but if you don't have one, it is extremely advisable to spend a few hours cleaning your laptop and smartphone. This involves getting rid of unnecessary (and often questionable) photos and videos that are received every day on WhatsApp. You should also delete any social accounts or apps that you do not use too often. It is also advisable to disable fingerprint recognition on your device and just restore the default passcode unlocking method. It is believed that if your phone does not have fingerprint recognition activated, the chances are that you may be not asked by airport security officials to unlock it.
6- Keep your devices updated
Last, but possibly the most important thing to keep your privacy intact, is to update all your devices to the latest version of their OS. This is your only method of keeping your devices secure from viruses like malware and even ransomware, which you are more prone to catch while traveling. A recent ransomware, called WannaCry, managed to spread across 140 countries in just five hours of its initial breakout. It is worth nothing that WannaCry only infected those devices which were not updated to the latest OS. May it be your phone, laptop, or any other gadget, keeping it updated ensures that it has no security lapses in it and is able to withstand and protect your data from anyone attempting to steal it.
The guidelines provided here are not totally foolproof, but security experts say every measure can help reduce the chances of cyber theft. "There are no absolute remedies," said William Evanina, national counterintelligence executive at the Office of the National Counterintelligence Executive, a government agency. "Know what your competitors would want from you." he said, and aim to safeguard it by leaving that information at home.