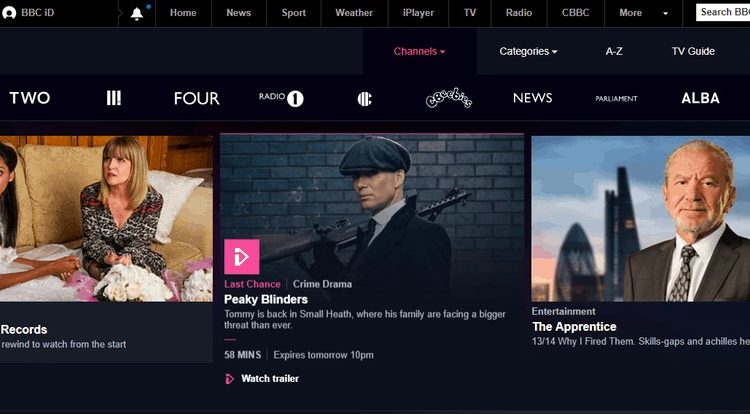 If you are an expat or you have just travelled abroad, you will surely find a message on BBC iPlayer saying that the service only works in UK. However, there's a way to work around this, and I will show you how.
BBC is the oldest and most popular broadcasting service in Great Britain. This makes BBC iPlayer the most popular online streaming service in the UK. BBC iPlayer provides users with high-quality TV and radio shows as well as movies. It offers both live TV and on-demand content that you can enjoy for free, and without adverts! You can watch BBC One, Two, Three and Four, BBC News, and cBBC among others.
BBC iPlayer will only need to know that you have a TV Licence and then it will let you enjoy the service.
However, just like most streaming services, BBC iPlayer is geo-blocked and can only be accessed while you are in the UK!
"BBC iPlayer only works in the UK. Sorry, it's due to rights issues."
That is the message that you will get when you attempt to catch up with your favorite shows or watch TV from abroad. If you are an ex-pat or you have just traveled abroad, you will surely find this very frustrating. However, there's a way to work around this, and I will show you how.
Why Does BBC iPlayer Block me?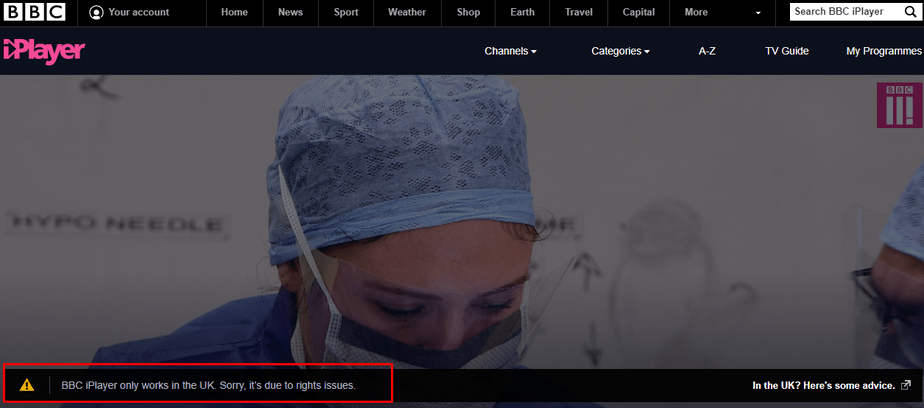 BBC iPlayer implements geo-restrictions to comply with copyright requirements of content producers. They have also included this in their terms of use. This, therefore, means that unblocking BBC iPlayer while abroad is not permitted in their services.
However, if you look at it in a more logical perspective, you won't be doing anything wrong. You have just traveled for your holidays, you want to catch up with various shows on BBC iPlayer, and you have a genuine TV license. How much evil will you have committed? Well, according to me and most netizens, none.
How BBC iPlayer blocks traffic
Every connection to the internet has an IP address. This IP address carries certain information, and the device's location is one. Through this, BBC iPlayer can easily determine where specific traffic is coming from and then deny access.
Whether BBC itself wants to block viewers is open for discussion. For quite some time, they hadn't been serious about restricting access to people outside the UK. Actually, in 2015, they said that an estimated 60 million people were watching BBC from outside the UK.
While the technology to block most traffic from proxies and VPNs has been there, BBC had not really implemented it like Netflix and the like. However, that changed last year, and now BBC can detect simple proxy and VPN traffic then block access.
Unblocking BBC iPlayer Geo Restrictions using a VPN
A Virtual Private Network (VPN) is a service that encrypts all your traffic and tunnels it through a selected server. When you are in Australia for instance and choose a server in the UK, your traffic will be tunneled through that server, and you will be given a new IP address that makes you look as if you are from the UK.
However, now that BBC iPlayer can block traffic from a VPN, it calls for proper selection of the right VPN. Thankfully, detecting VPN/SSH traffic is not as easy as blocking access from proxies. To do this, BBC identifies IP addresses that support multiple connections and then restricts access individually. This is not an easy one, and therefore BBC resorted to targetting companies specifically. They would then block IP address ranges for companies that advertised themselves as unblocking BBC iPlayer.
Thankfully, this can't be 100% effective, and some VPN services still provide access to BBC iPlayer.
Here's a link to CyberGhost with the best discount I found.
Selecting a VPN to Unblock BBC iPlayer Abroad
Now that not all VPNs can unblock BBC iPlayer, you will need correct information on which VPN to sign up for.
If you want to try it yourself, you can look for a VPN that has money-back guarantee. This way, you can be able to test the service for yourself, and if it's not unblocking BBC iPlayer, you can just get your money back.
One other primary consideration before you commit your pockets to a VPN is good speeds. A VPN is bound to bring down your connection speeds since your traffic is encrypted and tunneled through a server that may sometimes be far away. However, different VPNs affect speeds differently. Streaming in HD will require good speeds so get a VPN that doesn't significantly affect your speed.
One VPN that can save you from all that trouble is CyberGhost, and it's the one we have used for this guide. CyberGhost takes care of your privacy by implementing a Zero logs policy. It is mostly referred to as the best VPN for Kodi due to its great streaming speeds coupled with its military-grade security.
To cope up with IP blocking, CyberGhost continually refreshes their IP range and have a list of servers for BBC iPlayer. This means that even if at a certain time the VPN doesn't unblock BBC iPlayer, you can expect the company to work on it.
Generally, here is the procedure of unblocking BBC iPlayer on your device;
Sign up for a VPN account. (Try to avoid free VPNs, unless they a free trial for the paid VPN. This is because even the free VPNs need money to maintain their servers. They will mostly have many adverts that may bring malware to your device. If not, they will most probably sell your data and browsing habits for retargeting). Here's a 83% discount promo link to signup CyberGhost.
Download and install the VPN app for your device.
Launch the VPN app and sign in
Click on the tab "For Streaming" and easily select the UK server optimized for BBC iPlayer

Select the server optimized for BBC iPlayer
Using a VPN is as simple as described above. But if you want more information, you can check this article too.
After doing the above, you will now have a UK IP Address. If you have a working VPN, BBC iPlayer will now think that you are actually located in the UK. You will have unblocked BBC iPlayer.
If you are watching for the first time, you will be asked if you have a TV License. All you need to do is select 'I have a TV License. Watch now.' There is no form of verification, and so your stream will just start.
You can now enjoy any show on BBC iPlayer with CyberGhost!