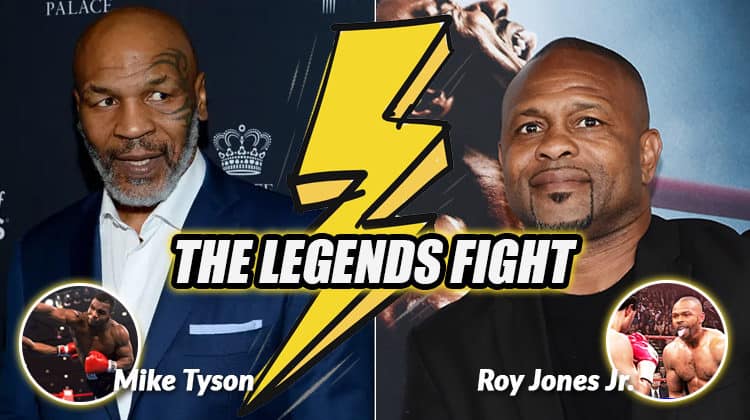 Event : Mike Tyson vs Roy Jones Jr.
Date : November 28, 2020
Time : Approx 9pm (It will follow after the undercards)
Venue : Dignity Health Sports Park, Carson, California
Live Streaming : To be announced
The much-awaited Mike Tyson Vs Roy Jones Jr. is fast approaching. Get ready for the fight online, there is almost no way for most of us to watch it on site. People are now trying to figure out How to Watch Mike Tyson vs Jones Jr Fight because it will happen inside closed doors and COVID19 protocols will surely be followed. At this point, most of us will have to contend with expensive Pay Per Views (PPV), delayed telecasts, or the easily accessible live streams.
On November 28, 2020, Roy Jones Jr. and Mike Tyson will have an 8 round exhibition match at the Dignity Health Sports Park, Carson, California. Each round will last only 2 minutes and being known knockout artists, we can expect great action from the beginning of every round. Tyson Vs. Roy Jones Jr. is called an exhibition match. But as Jones Jr said, we can expect Tyson to go all out for the whole duration of the fight.
News reports say Mike Tyson will receive a $10 M purse that he will donate to charity. Roy Jones Jr.'s purse will be $10.5 M. On top of that, both fighters will receive generous percentages of the Pay Per View (PPV) and TV rights income.
Who are Tyson and Roy Jones Jr
Mike Tyson, 50-6 (44 KO)
Until now, Mike Tyson holds the distinction of having been the youngest heavyweight champion of the world. He was the first to unify the IBF, WBO, WBC belts, and I remember those words being spoken by the announcer /commentator when I watched the bout on live on television.
Tyson is known for his punching power. He wasn't very tall (5,10") but defeated fighters who are 6 inches taller and had much longer reach. It only took him 8 punches each, to defeat Michael Spinks and Carl Williams. He also scored 22 knockdowns in the first round and has a total record of 44 KO's. His professional career lasted from 1985 to 2005. He was at the top of the world during his professional career and it seemed that nobody can stop him. Even his eventual defeats were seen by many as a fluke or a result of his lavish lifestyle. His talents and strength were never questioned.
Top 10 Mike Tyson Best Knockouts
Roy Jones Jr., 66-9 (47 KO)
Pound for pound considered as one of the best boxers of our time, Roy Jones Jr. has a 66-9 (win-loss) record from 1989 to 2018. A silver medalist in the 1988 Olympics (junior middleweight division), he steadily rose to become a world champion in 4 weight classes (middleweight, super-middleweight, light-heavyweight, and middleweight divisions). Other accolades include being named "1994 Fighter of the Year (The Ring Magazine), 2003 Fighter of the Year (World Boxing Hall of Fame), Best Boxer ESPY Award (1996, 2000, &2003), and Fighter of the 1990s Decade (Boxing Writers Association of America).
Known for his hand speed, reflexes, intelligence, and knockout power, his 47 knockdown wins are equally dispersed during his 29-year career. He dominated one opponent after another and didn't show signs of decline even during his retirement day. He opted to rest and enjoy life while at his peak, only two years ago. Judging from his last 10 fights, 9 of which were KO's, It is fair to conclude that his boxing domination could have continued had he continued to fight.
Roy Jones Jr.'s Greatest Knock Outs
When is Mike Tyson vs Roy Jones Jr. Fight?
The exhibition match was originally scheduled for September 12, but it was later rescheduled to November 28, 2020. Some sources say it was done to accommodate fans who would like to watch the fight, live at the Dignity Health Sports Park, in Carson, California. Roy Jones Jr claims that the new schedule is giving Tyson more time to get back in shape. He said that if they proceeded with September 12, Tyson would never have had the chance to get in shape. During the contract signing, the bout was just around the corner. The revised that date will therefore work to Tyson's advantage. This development should result in a more exciting fight since both fighters will be in better shape.
For those who cannot make it to the fight venue, they can enjoy Jones Jr vs Tyson via PPV or livestreaming. The PPV rate is $49.9 while livestreaming rates will depend on which provider you choose. The best livestreaming sites are mentioned in this article.
Stats
Mike Tyson
| | |
| --- | --- |
| Wins | 50 (44 via KO) |
| Loss | 6 |
| Status | Inactive |
| Career | 1985-2005 |
| Birth Name | Michael Gerard Tyson |
| Alias | Iron |
| Born | 1966-06-30 |
| Nationality | USA |
| Debut | 1985-03-06 |
| Division | heavy |
| Stance | orthodox |
| Height | 5′ 10″ / 178cm |
| Reach | 71″ / 180cm |
| Residence | Henderson, Nevada, USA |
| Birth Place | Brooklyn, New York, USA |
Mike Tyson Stats
Roy Jones Jr.
| | |
| --- | --- |
| Wins | 66 (47 via KO) |
| Loss | 9 |
| Status | inactive |
| Career | 1989-2018 |
| Birth Name | Roy Levesta Jones |
| Born | 1969-01-16 |
| Nationality | USA |
| Debut | 1989-05-06 |
| Division | light heavy |
| Stance | Orthodox |
| Height | 5′ 11″ / 180cm |
| Reach | 74″ / 188cm |
| Residence | Pensacola, Florida, USA |
| Birth Place | Pensacola, Florida, USA |
Roy Jones Jr. Stats
Odds
Different oddsmakers have different readings of the possible outcome. Some opened their betting stations with both Jones Jr and Tyson being given -110, while there are those who gave a largely different rating. If you are not familiar with boxing odds, a -110 rating means that betting $110 on either of them will give a chance of winning $100. The odds are expected to change as the fight night comes close and those who would like to bet their money may look at different oddsmakers and choose the ones that give more lucrative odds.
How to Watch the Full Fight
We created a few articles about how to watch the fight in different devices and apps, for free, or paid. Checkout the articles below:
The Preparation of Mike Tyson for the Fight
Despite not having seen action for many years, Mike Tyson remained relatively in good shape. His latest Instagram posts show a full complement of trainers, a very toned Mike Tyson, and a declaration akin to "Win or Die". The bout which is to last only 8 rounds, and has a short duration of 2 minutes per round, works to his advantage. Tyson can unleash firepower from the first second to the last, and the round will end before he gets tired. With much of his strength said to be intact, Mike Tyson should be more than ready on the 12th week.
The Preparation of Roy Jones Jr. for the Fight
Roy Jones Jr is fresh from fighting many rounds. He is used to running around the ring and throwing punches while pursuing or retreating from his opponent. However, the 2 minutes + 8 round rule will leave him not much time to get Mike Tyson tired before breaking him down. He needs to face Tyson's explosive punches head-on and break him down while he is still full of ferocity. If this scenario unfolds, this will be a fight worth watching from beginning to end. Every second will be good for the audience and blinking one's eyes should never be done. In interviews, Jones revealed that his trainers are having him go through plenty of 8 rounds for 2 minutes per round. With many more weeks left before fight night, he should be more than ready to win using the new fight format.
How did it all happen?
This fight is very exciting for boxing fans because it is several years in the making. When Jones Jr was dominating just about everybody, people wondered what will be the outcome if he and Tyson are to have a showdown. Jones said that he is currently very happy with his retirement but the boxing fans don't seem to want him to retire. This is especially with the Tyson bout not having happened yet. This will be everybody's chance to see what will happen.
Analysis
Roy Jones is younger, a bit taller, with a longer reach, and more experienced compared to Mike Tyson. He fought 12 more fights, won 16 more, and has more knockouts in his belt compared to Tyson. Jones Jr boxed so well that a lot of analysts say that he is, in many ways, better than Floyd Mayweather, Jr.
Unlike Mayweather, who admits to carefully choosing his opponents, Jones Jr, fought just about anybody who came his way. He was knocking down opponents, if not winning with unanimous decisions until his retirement.
Jones Jr. last fought only two years ago (2018) while Tyson's last happened a decade and a half back.
However, the question, "Is he still in tip-top shape?" applies to both of them.
While Jones fought and have more wins, Tyson did not as many bouts due to many many distractions. He even had a rape conviction and a 3 year jail time. However, he seems to be a much different man today.
Jones Jr's winning streak extended until retirement day while Tyson lost in his farewell fight as well as his last two return bouts.
Tyson last fought 15 years ago while Jones' retired only 2 years back. Jones Jr, by all indications, is the fresh fighter.
However, Tyson remains a monster with his punching skills. If he hits Jones enough times with it, there will be a problem. As Jones admits, Tyson has wild punching power and is the type who will attack with so much ferocity in the first round. Tyson remains fast and his Dempsey style of swaying side to side while approaching his enemy can be very hard to evade."All he gotta do is get to their chin and he got them," Jones said.
Another factor that favors Tyson is the rescheduling of the bout and round durations. If the initial fight date was followed, Tyson only had 6 weeks to train, and has been inactive for a long time (15 years), he did not have much time to prepare. However, a rescheduling of the bout to November 28, means that he will have more time to prepare. Jones claims that Tyson remains an explosive puncher and with 12 weeks to prepare, he increased his chances of winning. The round duration is another Tyson advantage. They will be fighting 2-minute rounds instead of the usual 3. This means that the older and long inactive Tyson will not be tasked as much.
In 2018, Ring Magazine's Top 100 Punchers Of All Time listed Tyson at No 16 and in contrast, had Jones Jr. only at No. 89. Of course, the analysts compared the Tyson and Jones Jr. when both were at their peaks.
Our Prediction
The outcome will depend on who will be in the tip-top form on fight night. Tyson and Jones Jr. should have their camps equipped with the right people, conditioning experts, nutritionists, dieticians, and doctors. There should be a head coach, staff, and consultants who will closely monitor the boxers' progress, spy on the other camp, analyze everything, and adjust the training regimen accordingly.
It is also important that the fighters reach their peaks at the right time and make sure that they do not get overworked.
Jones Jr is undoubtedly the better fighter on the day the contract was signed. He was still in his prime when he last fought (only two years ago), and he continued to train. As Jones said, there was no way Tyson could have beaten him if the original schedule was followed. However, with 6 additional training weeks added, things can be very different.
Boxers get wiser and better as they age. Old George Foreman became more a more accurate puncher. If Tyson remains explosive and is as wise as the old foreman, this can potentially be a return bout just like George Foreman's who kept winning Knockouts even after a ten-year retirement.
Tyson vs. Jones Jr. Fight Updates:
Buster Douglas has a surprising prediction for the Tyson vs Jones Jr. fight.
The first to beat the rampaging Mike Tyson (in a knockout, at that) predicts a victory for Iron Mike.
Buster Douglas has something to say and it cannot be taken lightly. After all, he went toe to toe with Tyson and was at the receiving end of Iron Mike's brutality and got badly knocked on the 8th round. People say slow count saved him. Hurting, he rallied and knocked the Iron Mike out, after ten rounds.
Buster now says Jones Jr. does not have much of a chance. He even thinks the man doubts his chances. The sun quoted, "I think (Roy) he has a chance, but it's a slim chance. Slimmer than Buster Douglas."
This only means that the fight is getting more and more exciting to watch as the fight night comes close.
Between Tyson and Jones Jr., Roy is younger and said to be in better shape. He retired only two years ago and he continued to train. Tyson, on the other hand, never fought in the last 15 years.
Despite that, Buster Douglas' prediction is something that should not be taken lightly, especially by those who will bet money. 
Tyson Vs. Jones Jr. Fight Rules – Updated 27/11/2020
It will be a full-pledged violence!
UFC middleweight champion Israel Adesanya, knowing how Jones Jr. and Tyson fought every fight in their long bloody careers, has this to say,
"I expect there to be full-fledged violence. I don't know what the f— the commission was talking about like there's going to be no knockouts. This is not a game to these guys. It's an 'exhibition,' but it's not going to be an exhibition."
Adesanya will be a part of the broadcasting team together with Al Bernstein and "Sugar" Ray Leonard.
Fight Rules: Mike Tyson Vs. Roy Jones Jr.
While the California State Athletic Commission placed rules designed to protect the "50ish fighters", they may actually have (unwittingly) told the fighters to go all out with each other. Here are the rules that will govern the fight.
A) Both fighters will be required to wear heavy 12-ounce gloves to soften the impact of their blows,
B) There will be no knockouts, and
C) The referee will stop the fight if a fighter suffers a cut.
…Ok, the glove rule seems fine but will the fighters really resist the urge to knock each other? Let's see the other rules.
D) There will be no official judges,
E) There will be no official winner but WBC will have unofficial judges remotely viewing the fight.
F) The fight will be reduced to 8 rounds (from the original 12),
G) Every round will be reduced to 2 minutes (instead of 3)
H) The unofficial winner will get the "'Frontline Battle Belt", especially commissioned for the event.
.. RULES D to H are where the athletic commission possibly made serious errors. Shortening every round and total number of rounds fight will possibly encourage both fighters to demonstrate their aggressiveness and dominance early and not wait for the other their opponents to get tired and slow. Every fighter wants to convincingly win and a short fight will possibly encourage fighters to go all out from the beginning of the round.
Tyson and Jones Jr. are proud champions and will not want a public debate on who won. With no official judges, they will try to beat each other senseless so as to leave no doubt on who won that bout. And who doesn't want to go home with the winner's belt?
Besides, they both want to impress the public for they plan to continue fighting and earn more money, long after this bout. They both want to convince the public that they are not past their prime.
More Articles about this fight:
Sources:
Source:
https://www.covers.com/editorial/article/c9865d18-cd0a-11ea-a980-0a73013d6078/mike-tyson-roy-jones-jr-odds
https://www.liveabout.com/ring-magazine-top-punchers-of-all-time-424118
https://boxrec.com/en/proboxer/774820
https://boxrec.com/en/proboxer/90
https://www.insider.com/roy-jones-jr-mike-tyson-cause-problem-in-heavyweight-division-2020
https://www.espn.com/blog/statsinfo/post/_/id/120595/mike-tyson-turns-50