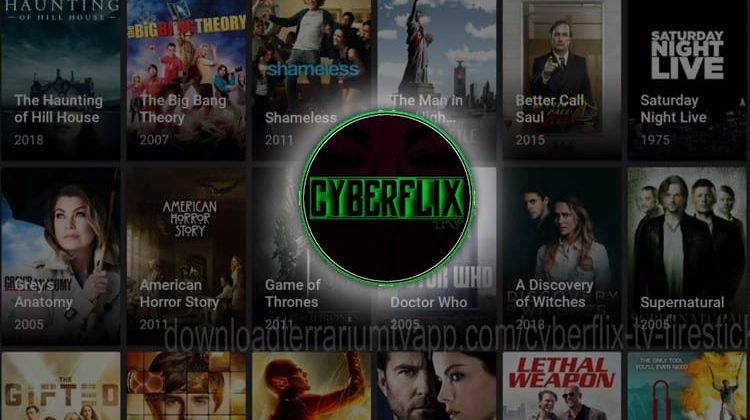 Now that Terrarium TV is over, Cyberflix TV is the promising Terrarium TV successor with tons of high-quality sources and great functionality; so here's the article on How to Install Cyberflix TV on Firestick and Android TV Boxes to watch HD Movies and TV Shows…
If you've ever used the now discontinued Terrarium TV app, then you'll be glad to meet CyberFlix TV.
CyberFlix TV is an Android Movie and TV Show app which has been cloned from Terrarium TV. The new app features the same design as its predecessor, but with tons of high-quality sources. Thanks to its great functionality, CyberFlix TV is now receiving a lot of attention, and it is surely the app that has come closest to stepping in the shoes of the fallen Terrarium TV.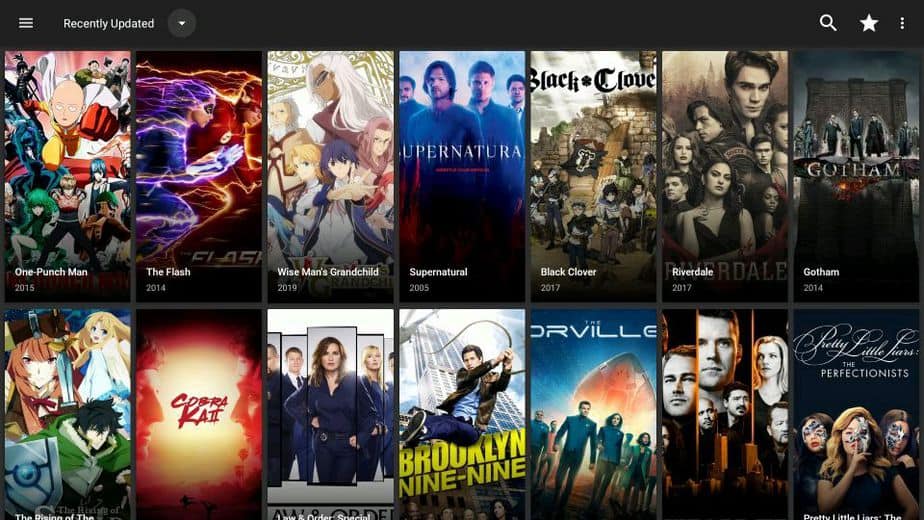 With CyberFlix, you'll be able to watch almost any Movie or TV Show on your big screen. To make your experience even better, you can integrate your Real-Debrid account if you have one, and enjoy high-quality streams with no buffering.
The app can be installed on any device running Android and in this guide, we'll show you how to install CyberFlix TV on Firestick and Android boxes.
Stream Privately & Securely
CyberFlix TV is an unofficial streaming app, and it aggregates its sources from publicly available streams on the internet. Most of these streams usually provide pirated content, and this can easily land you in trouble.
ISPs usually monitor your traffic, and at any moment in time, they know the websites you visit, files you stream or download, etc. Copyright trolls are also actively monitoring illegal streaming, and thousands of users have ended up receiving DMCA notices.
To avoid this mess, always use a VPN whenever you want to stream on CyberFlix or any other unofficial app.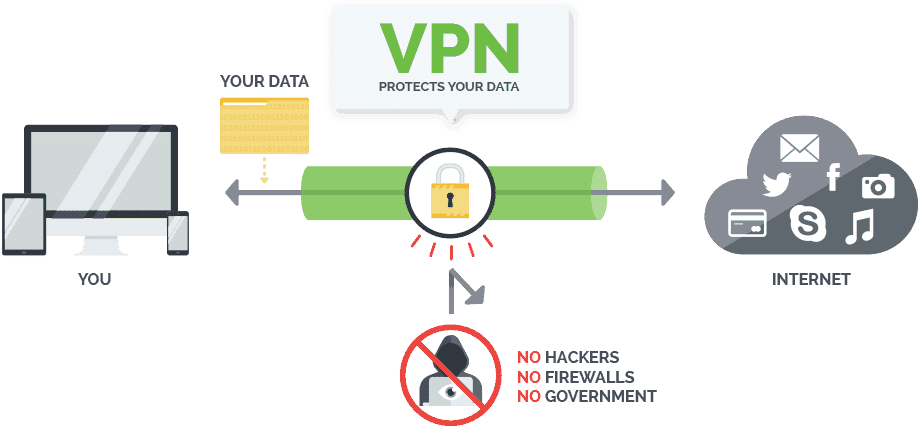 A reliable VPN like Surfshark will encrypt your activities from your ISP and spoof your IP address to make you anonymous while on the internet. Here's How to Install a VPN on Firestick .
Since Surfshark keeps zero logs, nobody will be able to trace you, and so your identity will be secure. To help you get started, we've managed to get an exclusive 82% discount for BestDroidPlayer readers.
How to Install CyberFlix TV on Firestick
Since CyberFlix is not an official app, it's not available on Amazon Store. This means that to install it, you need to allow your device to install "apps from unknown sources." Here's how to do that:
Enabling Unknown Sources on Firestick
While at the device Home screen, go to "Settings" then select "My Fire TV/ Device." 
Select "Developer options."
Turn on " ADB Bebugging" and "Apps from Unknown Sources"
After that, we can go ahead and download the app.
Installing Downloader on Firestick
The best app for downloading the apk is "Downloader," which is readily available on the store. If you haven't installed it yet:
On the main menu, select the Search and type Downloader.
Downloader should be the first suggestion. Select it.
Now click Get to install the app on your Firestick.
After the installation is complete, open the app.
Installing CyberFlix app on Firestick
Now, we need to download CyberFlix Firestick apk.
Firstly if you haven't turned your VPN on already, is time to do it now!
The VPN we suggest is Surfshark
Then, in the URL field of the downloader, enter the URL "http://bit.ly/2SJx1Ad" without the quotes. After that, click 'Go.'
The download will start immediately
When the download is complete, downloader will initialize the installation. Just scroll down and click "Install"
When the installation completes, click the back button on your remote.  You will then be asked if you want to delete the apk. Select "Delete" to save some space. When asked to confirm, select "Delete" once more.
CyberFlix TV should now be available in your app list. You can enjoy watching with your new app!
However, remember to stay safe when using CyberFlix TV. Always make sure you turn on your Surfshark before streaming on the app or any other unofficial app.
How to Install CyberFlix TV on Android TV Box
If you stream using your Android TV Box, it's also very easy to install CyberFlix TV. Just like with Firestick, the first thing you need to do is ensure that your Android box is permitted to install third-party apps.
Enabling Unknown Sources on Android TV Box
To do that, navigate to Settings> Personal> Security & restrictions > " Unknown Sources."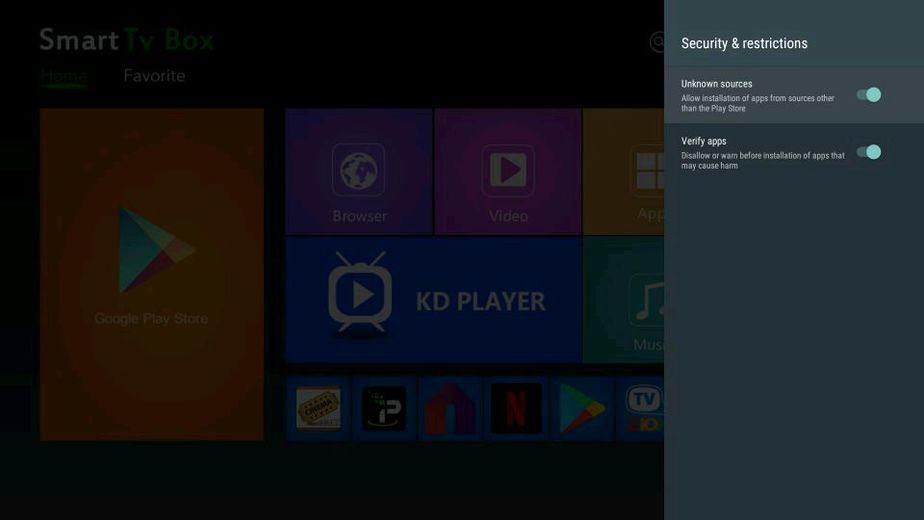 From there, you will need a download manager to facilitate the download. The best app for downloading on Android box is ES File Explorer, which you can easily install from the Google Play Store.
Installing ES File Explorer on Android TV Box
Just open Play Store, search the app and click install. You can then follow the procedure below:
After ES Explorer installs, go to Tools , select Download Manager, and then New
Downloading the Cyberflix TV application on Android TV Box
ES Explorer will now give you an option to input the path and name of the file you'd like to download.
But, firstly if you haven't turned your VPN on already, is time to do it now, to protect yourself!
The VPN we always suggest is Surfshark
Enter the URL http://bit.ly/2SJx1Ad . There's no need to enter a name.
ES Explorer will start downloading the file.
After it's complete, you'll get an option to open the folder where its been store, or to open the file. Select "Open File"
 You'll now get an "Install" option. Click it.
After the installation is complete, close ES Explorer.
Under your App list, you should find CyberFlix.
Before you open CyberFlix TV
You do not want to enjoy a couple of free movies and shows and risk getting a DMCA notice. Remember that illegally streaming copyrighted content is against the law in most countries, and so you should be careful about your online activities.
Since you can't always tell pirated content, always make sure that you turn on your VPN before streaming on CyberFlix. If you already have a reliable VPN, then great. Use it.
If not:
You can take advantage of our offer and create an Surfshark account at a discount.
From there, download and install the VPN app for your Firestick or Android TV Box.
Sign and connect to a server near you for the best performance.
You are now good to go!
Now that you know How to Install Cyberflix TV on Firestick and Android TV Boxes and use it wisely, enjoy streaming your favorite Movies and TV Shows!
Disclaimer: BestDroidPlayer is in no way affiliated to Cyberflix, and neither do we promote the consumption of illegal content. The information provided here is only meant to be educational, and so you use it at your own risk. To stay safe, always make sure that you use a reliable VPN with third-party streaming apps.
[kkstarratings]