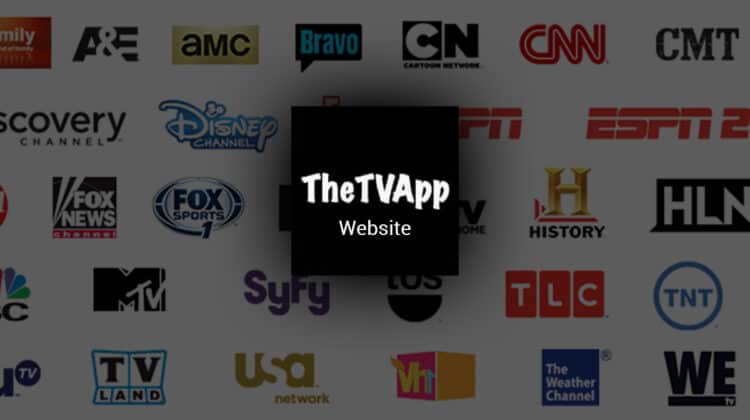 Looking for a USTVGo alternative? The TheTVApp website lets you access everything you can on USTVGo, and more. We'll review it and show you how to watch the streaming website on Firestick and pretty much any streaming device.
In March 2023, many online streaming fans were stranded after the hugely popular live TV streaming site USTVGo shut down. The website didn't give a reason for its shutdown, but all its social media channels also went down at the same time, suggesting that there may have been some significant pressure behind the action.
Since then, USTVGo fans have had to contend with various alternatives. Most of those alternatives, however, do not offer the effectiveness and simplicity of USTVGo, and are also full of ads and pop-ups.
Fortunately, a new player has entered the market – The TVApp.
Contrary to the name, this is not an app but a streaming site that you can access at thetvapp.to 👀
The site is similar to USTVGo in that it specializes in US TV channels and offers 110+, more than even its predecessor used to offer. It also uses a similar, albeit different, interface, allowing users to access the channels alphabetically. To top it off, at least at the time we are writing, it doesn't have any ads.
TheTVApp is working better than most popular free streaming services, so we've decided to take a closer look at it. Throughout TheTVApp website review, we'll look at what it has to offer, then show you how to access it via Firestick and Kodi.
TheTVApp Website Features
TheTVApp free streaming site is well equipped with various features.
Extensive Channel Selection
Whether you crave news updates, thrilling sports action, captivating entertainment, or more, The TV App website has got you covered. It has a comprehensive channel lineup that consists of 112 channels. You can explore them and indulge in your favorite shows and live events conveniently accessible from a single website. You can access A&E, E, Fox Channels, ESPN Channels, Animal Planet, BBC Channels, Cartoon Network, CBS Sports Network, Comedy Central, Disney channels, HBO channels, and Showtime.
User-Friendly Interface
The website boasts a straightforward interface that breezes navigation and channel selection. The intuitive layout allows users to quickly find and select the desired channel, ensuring a seamless streaming experience. You can access all channels on the website from the main page. There are also sections that simplify the process of watching various games by providing links to live games. These include NBA, MLB, NHL, and NFL.
TV Guide
TheTVApp comes with an integrated TV guide feature to ensure you'll never miss your favorite shows or upcoming events. To access the guide, simply click on any of the channels, and you'll get a "TV Schedule" beside the player. The guide covers about 24 hours.
Free Streaming Service
One of the best aspects of TheTVApp is that it lets you watch live TV free of charge. On top of that, you don't even have to create an account to start streaming. This makes it a great option for many streaming fans who don't or can't have US TV subscriptions.
Compatibility and Accessibility
TheTVApp can be accessed from various devices, including desktops, laptops, smartphones, and tablets. This flexibility allows users to enjoy their favorite channels on the go or from the comfort of their homes. The platform supports popular web browsers, making it easily accessible to most users. You can also install The TV App Kodi addon to access it more easily.
Is TheTVApp website Legal?
TheTVApp site provides lots of premium TV channels for free, but we cannot establish whether the website hosts these streams. However, most free streaming sites are questionable in their legality, so you must be careful if you want to access the streaming.
👉 If you decide to use the streaming site, we advise that you protect yourself by using a reliable VPN. The VPN will encrypt your traffic to ensure that your ISP and government can't know what you are accessing. It will also change your IP address, which will prevent copyright trolls from tracking you down.
✋ However, not all VPNs can offer the required level of protection and provide good streaming speeds at the same time.
The VPN We Recommend
For peace of mind and a smooth streaming experience, we recommend that you use Surfshark for all your streaming needs. The VPN tops our list as it offers top-class service at an affordable price, and below at its highlights:
⚡ Superb Speeds: Guarantees a smooth live streaming experience.
🌍 Huge Server Network: You can connect to a nearby server for a fast and stable connection.
😲 UNLIMITED Devices: Connect dozens of devices at the same time!
🔑Unblock Anything: Safe access to censored apps, websites and torrent sites.
😎 Best in Privacy: The VPN doesn't keep any activity logs, and so your activities are only known to you.
🔐 Top-notch Security: This VPN uses AES 256-bit encryption and provides multiple protocols alongside other security features such as a kill switch, DNS & IPv6 protection and WireGuard.
💳 30 Days RISK FREE Money-Back Guarantee: In case you do not like the service, you can get every penny back if you cancel within 30 days!
You can
get 82% off Surfshark
using our exclusive offer below!
However, a VPN is not only for safe and private streaming. Discover the many awesome things where a reliable VPN can help you with your daily life tasks on the Internet.
How to Watch TheTVApp website on Firestick
TheTVApp has no installable application, so the only way to watch it is to use a browser. The Amazon Silk Browser is the default and most popular browser among Firestick users, so it is the one we'll use for this guide.
How to Watch TheTVApp website Using Silk Browser
Silk Browser is usually installed by default on most Firestick devices. However, if this is not the case for you, you can install it using the guide below.
Go to the Firestick home page, then click Search under Find.

On the search window, start typing Silk, and you'll see some suggestions. Click Silk Browser to search for the app.

The browser, whose icon is simply Internet with the Amazon arrow, will come up as the first option. Select it.

You'll now get an option to download the app. Click Download, and the Silk Browser app will install automatically.

After the installation, Silk Browser will be added to your app list. Go to the app library icon on the main page and click Apps & Channels to access it.

Once you click on the app, it will launch. Here's what it looks like on the first launch.

Next, we'll be navigating to TheTVApp website. However, before that, you need to confirm that you have connected your VPN. In case you don't have one, you can create one here at a discount. From there, install the VPN app just the same way we have installed Silk Browser, as it's available on the official store. You can then connect to a server of your choice.
After connecting your VPN, you can go to the search bar and type the following URL: thetvapp.to. You can then click Go.Go.

Silk Browser will prompt you to calibrate your display. You don't need to, so click cancel.

TheTVApp main page will then appear.


How to Stream on TheTVApp
TheTVApp has a straightforward interface with no learning curve. On the home screen, you'll find a list of all the channels available on the website.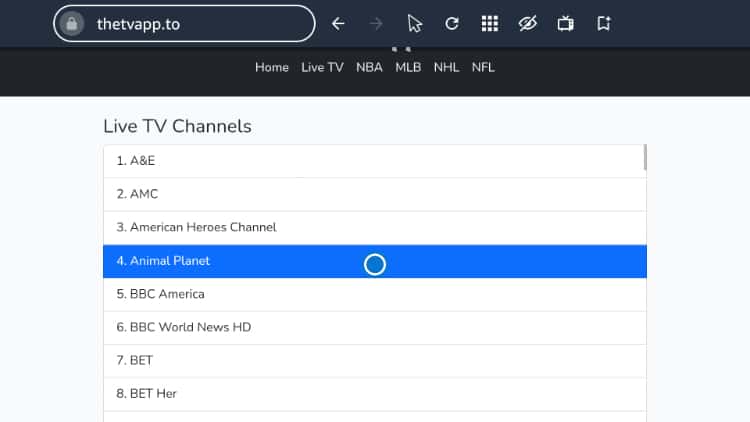 The other options on TheTVApp website are NBA, MLB, NHL, and NFL. If there's a match, you'll find it listed there.
To start watching, you can click on any of the channels. You'll get a play option, but the stream may also start immediately.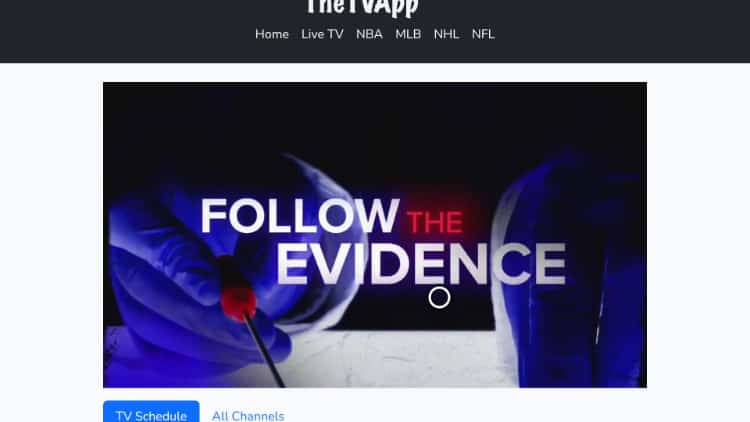 Below the stream, you'll also get a TV schedule for the particular channel. You can switch between this and the channel list.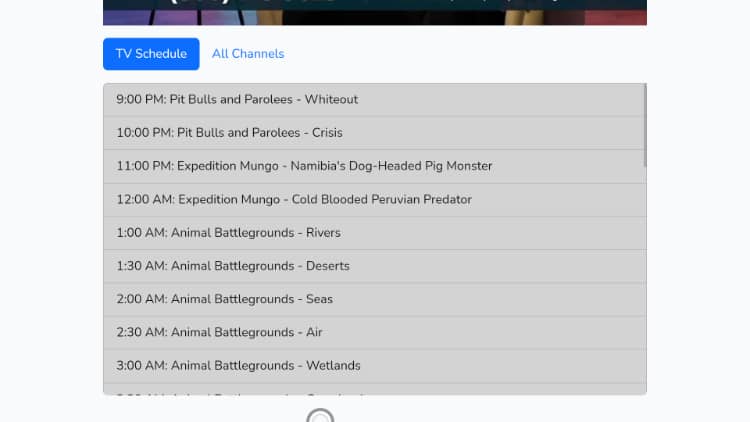 On the player, there are options for the sound, and you can even enable captions for the streams. There's also a full-screen button that removes all distractions.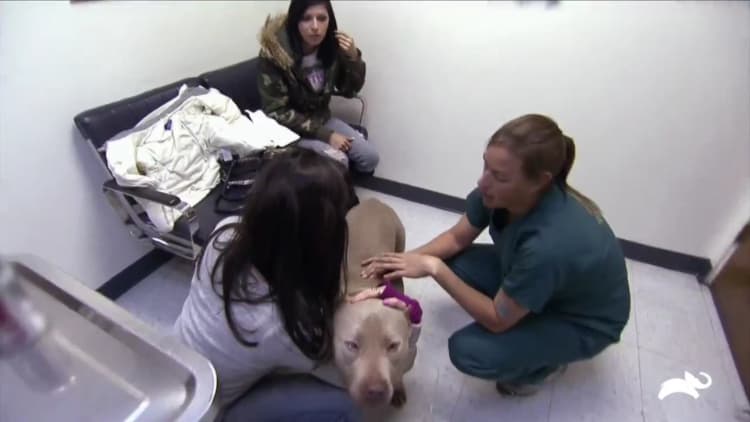 To scroll between the channels seamlessly, we recommend that you install Mouse Toggle.
How to Watch TheTVApp on Kodi
Kodi is a multimedia management software with a built-in player that lets you play locally stored multimedia content as well as play multimedia content available on the Internet. Kodi itself doesn't come with any content; however, it comes with many Addons that gather the content the user is looking for. So, if you are new to Kodi, consider installing the software first; it's free, and you can install it on almost all known streaming devices.
Although there's no app for the website, there's a superb Kodi addon that lets you access all the channels provided by the streaming site. The addon is hosted by the G-Live repository, which also hosts the Mega IPTV Kodi addon.
To help you install the addon, we have created a comprehensive guide on installing and using TheTVApp Kodi addon. It will let you access the streaming service in an easier way.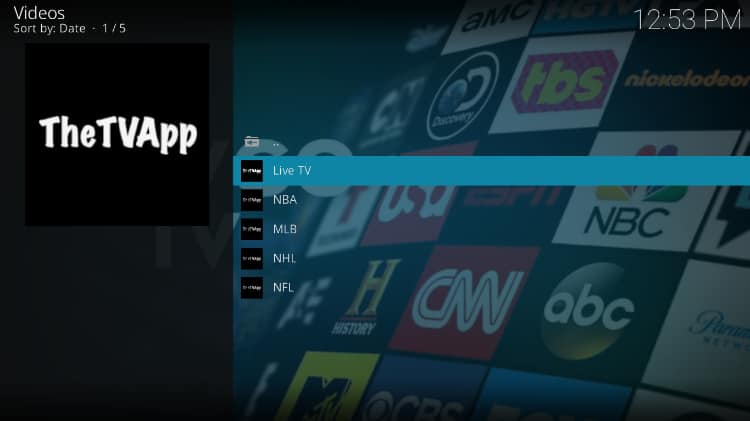 TheTVApp Website FAQ
Is the TheTVApp Safe?
Yes, The TV App website is completely safe. The website doesn't contain any form of malware, and it also doesn't display any ads. You can safely watch movies, sports, TV shows, and live channels.
Is the TheTVApp Free?
Yes, TheTVApp is a free website for streaming both live channels and sports. You also won't need to create an account to gain access to the streaming content.
Is the TheTVApp Legal?
We are not able to determine whether TheTVApp website is legal or not. However, it seems to provide premium channels for free, so you must be careful when using it. It's the end user's sole responsibility to ensure that they don't illegally access copyrighted content. That's why we strongly advise you to protect your identity and privacy by using a reliable VPN like Surfshark.
How to Watch TheTVApp?
You can watch the TV App on any streaming device. As it is a website, you can access it on any mobile device, desktop, and streaming device, such as Android TV and Fire TV. Although there's no app, there's an Addon you can install on Kodi that greatly facilitates accessing and watching the site content; the TheTVApp Addon
Wrap Up
TheTVApp stands out as one of the best free streaming sites out there. The site offers lots of the best US TV channels, and all its streams are HD and completely free. If you'd like to check it out, you can use the guide above to either watch on Firestick or through Kodi. However,
Enjoy!