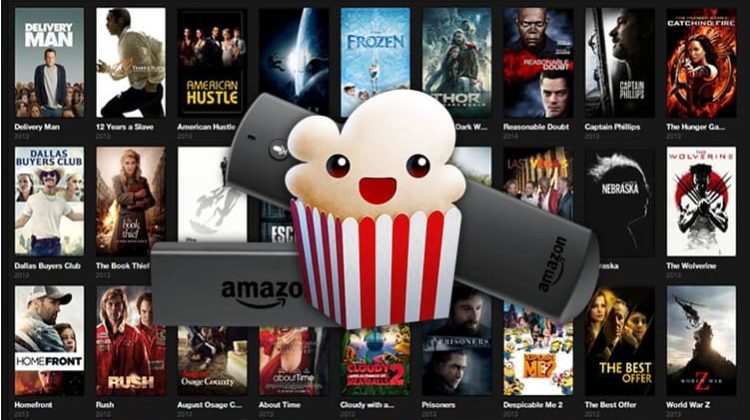 Though Popcorn Time not being a new app, it remains on the Streaming Apps top with reliable behaviour, a huge library, and smooth streaming, and we'll tell you how to install on your Firestick, Fire TV and other Android streaming devices.
This guide illustrates how to install Popcorn Time streaming app on Firestick and Fire TV. The app can also be installed on Android TV, Android TV Box, Android Smartphones, and Nvidia Shield.
Popcorn Time is one of the most popular streaming applications today, and it is featured in our list of the best streaming apps of 2022. The app is however different from most apps we review like Cinema HD and Kodi. This is because instead of crawling the web for streaming links, Popcorn Time uses an in-built BitTorrent client to stream torrent files from multiple sources using an inbuilt player.
The best thing is about the app is that it downloads a portion of the file you'd like to stream before it starts streaming. This makes it possible to stream content smoothly even with a slow connection. However, it also means that you need sufficient space since the downloaded bits are stored in your device. They are then erased after you stop watching the video. You can also choose to download a video and then watch it offline.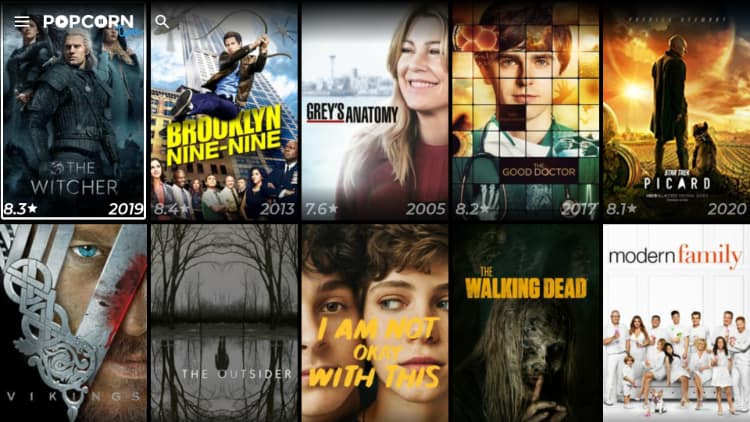 Popcorn Time has a huge database that includes even the most recent movies and episodes. Available content can be streamed with up to 1080p.
How to Install Popcorn Time on Android TV Box
Important: Stay Private & Secure
Since Popcorn Time uses torrent technology, you need to be careful while streaming on the app. This is because the governments and ISPs all over the world are running a crackdown to combat copyright infringement done through torrenting. This has led to the blocking of torrent sites in various countries such as the UK, as well as legal charges on people who share copyrighted content. Further, torrenting exposes a user's IP address to other users which puts them at risk.
For this and other reasons, we strongly recommend that you get yourself a good VPN for Firestick. This VPN will help by encrypting your traffic to make it senseless to your ISP, and it will also change your IP address to make you anonymous.
The VPN I recommend
For streaming we recommend Surfshark, and it's the VPN we use. Surfshark offers solid privacy and security, and it features some of the best speeds in the market. This is important as it ensures that you can stream on Popcorn Time, Kodi, and other apps without buffering.
To help you stream safely, we've managed to get an exclusive 82% discount for our readers. Subscribe below and you'll be eligible for a 100% money-back guarantee in case you wish to cancel.
How to Install Popcorn Time on Firestick
After getting yourself a VPN, we can go ahead and install Popcorn Time on Firestick. But since it's not available on the Amazon store, we'll need to do this through sideloading.
First, ensure that the "apps from unknown sources" option is enabled.
Here's how to enable it:
Enabling unknown sources
While at the device Home screen, go to "Settings" then select "My Fire TV/ Device."
Select "Developer options."
Turn on "Apps from Unknown Sources" as well as "ADB debugging."
After that, we can go ahead and download the app.
Firestick does not allow you to download files using a browser, so we'll need an app for that purpose. The best app for downloading the apk file is a downloader, an app that is readily available in the store. If you already have it, you can skip to the next section.
If you haven't installed it:
Installing the Downloader APP
On the main menu, go to the search option and type "Downloader"
Downloader should be the first suggestion. Select it.
Now click Get to install the app on your Firestick.
After the installation is complete, open the app.
Install Popcorn Time on Firestick
Now, we need to download the apk file to install Popcorn Time. There's a TV version that has a customized interface, but we prefer the Android version. This version is also compatible with Firestick and Android TV, and it's the one we recommend.
Firstly turn a Good VPN like Surfshark On, or the following steps may fail
In the URL field of the downloader, enter the URL: https://popcorntime.app/

Find the APK for Android or Android TV and click on it to download
Popcorn Time apk will start downloading.
After the download is complete, click "Install"
When the installation completes, click "Done."
Downloader will ask if you want to delete the apk. Select "Delete" to save some space.
When asked to confirm, select "Delete" once more.
Popcorn Time should have been added to your app list. It can now be found under "See All" in Apps & Channels.
Remember that Popcorn Time is a third-party app that uses torrents to facilitate streams. Before you stream anything, make sure that you connect to an Surfshark server first.
If you haven't created an account yet, here's our exclusive 82% discount !
After getting an account, you can install the Surfshark app by following these simple steps.
On the Firestick search box, type Surfshark.
The app will appear as the first suggestion. Click on it
You will be given the "Get" option. Hit it
The VPN will now start downloading
Launch it and sign in with your credentials.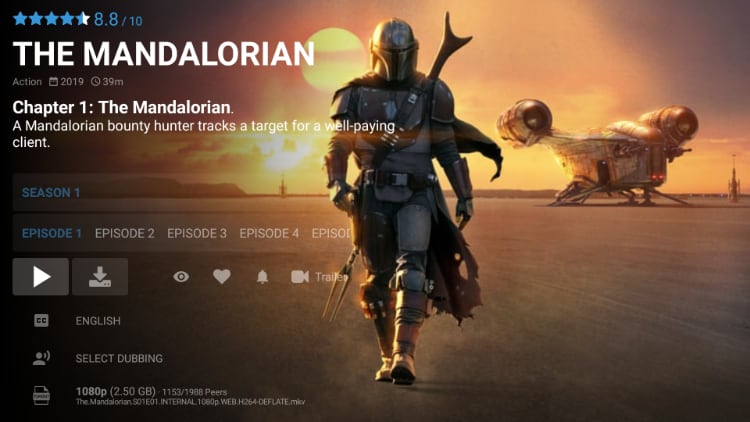 From there, you just need to connect your VPN and launch Popcorn Time. You can then select a title you'd like to watch.
You can choose the quality of the video and add subtitles if you desire.
Check out other streaming guides for Firestick!
Wrap up
Popcorn Time is one of the best streaming apps for Firestick, and you can install it using the guide above. You will then be able to stream in HD, without ads, and for free!
However, always keep in mind that this is not an official app, and so be careful not to get in trouble with the authorities. Always ensure that you connect to an Surfshark server before you can start streaming on Popcorn Time or any other unofficial app.
We hope this guide on how to install Popcorn Time on Firestick was helpful. If so, rate it and share with your friends – It means so much to us!
See you later!