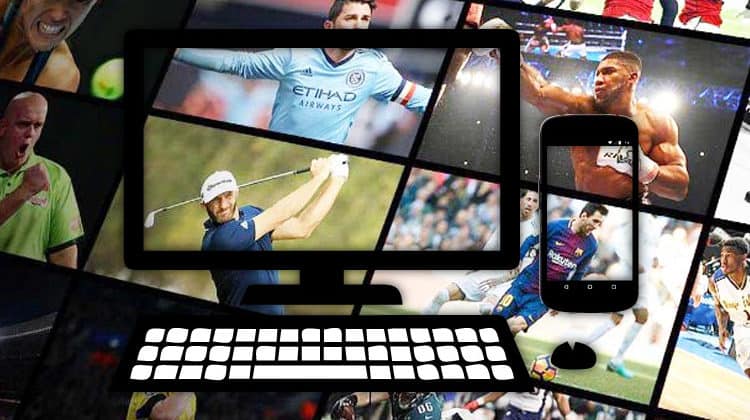 Which are the best sports streaming sites currently?
This is a difficult question today, unlike when there were only a few free streaming sites, and ads and pop-ups were not a disaster. In my opinion, the best streaming site is a site that is well designed, has quality links, is less cluttered with ads and pop-ups, offers multiple links, and is more than just streaming.
What do I mean when I say more than just streaming? Some sites have forums where their users can discuss teams and games, and others have integrated social sites on their websites to help their users get up-to-date or real-time updates.
While some offer major sports like Football (Soccer), NFL, NBA, and UFC, others cover less popular sporting events like badminton, volleyball, and netball. Other sites only concentrate just on a single sport. For instance, FootyBite concentrates on in-depth coverage of football only.
But beyond streaming, there are two other major issues to address when looking for the best sports streaming sites. The first of these is the safety of the streaming sites. While it's not easy to tell which sites are safe, avoid downloading anything, and if a link doesn't lead you to a stream, close it immediately. You should also have an adblocker to help you minimize ads.
The second of these is a bit more serious as it can easily land you in trouble.
⚠ Caution: Only stream with a VPN
In collaboration with governments and copyright agencies, broadcasters have been fighting hard to block free streams for live sports, mainly providing illegal access to content. It's therefore easy to find that some streams don't work for you. And even if they do, accessing these streams is illegal in most countries, and so you may land in trouble, get a cease-and-desist letter, or end up with a DMCA notice.
This is because your ISP has a direct window into everything you view and stream on the internet. If you want to avoid being monitored by your ISP and tracked by copyright trolls, you need to stream privately and anonymously.
The only way you can do this is with a reliable VPN. However, not all VPNs offer the speed, bandwidth, and geographic diversity required for streaming; some do not respect your privacy and leaks their users' navigation habits data for publicity agencies.
The VPN we recommend for streaming
At BestDroidPlayer, we highly recommend that you go for Surfshark as it's the best VPN for streaming.
Here's a quick features overview of the Surfshark VPN:
⚡ Superb Speeds: Guarantees a smooth live streaming experience.
🌍 Huge Server Network: You can connect to a nearby server for a fast and stable connection.
😲 UNLIMITED Devices: Connect dozens of devices at the same time!
🔑Unblock Anything: Safe access to censored apps, websites and torrent sites.
😎 Best in Privacy: The VPN doesn't keep any activity logs, and so your activities are only known to you.
🔐 Top-notch Security: This VPN uses AES 256-bit encryption and provides multiple protocols alongside other security features such as a kill switch, DNS & IPv6 protection and WireGuard.
💳 30 Days RISK FREE Money-Back Guarantee: In case you do not like the service, you can get every penny back if you cancel within 30 days!
On top of the above,
the Surfshark VPN is currently offering a 82% to BestDroidPlayer readers.
You can subscribe using the button below, and you'll still be eligible for the
100% money-back guarantee
.
Top 10 Best Sports Streaming Sites
Below is our list of the top 10 best sports streaming websites. Note that some sites work seamlessly on phones and computers, but others work best on computers only.
1. Stream2watch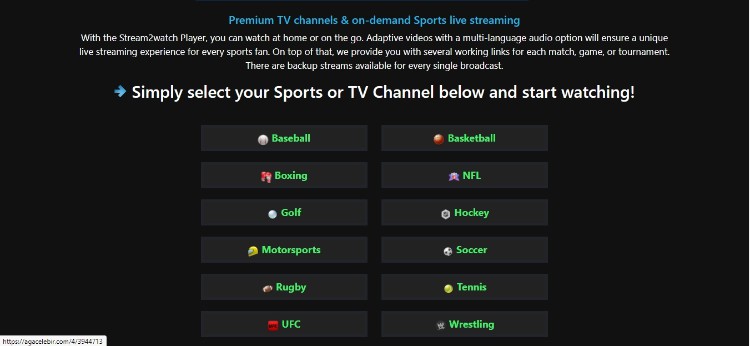 Stream2watch allows you to search your desired content and look at schedules and upcoming events, and it's one of the best sports streaming sites. The website does not host or upload any content but provides several links for each game, match, or tournament.
It also has videos that have a multi-language audio option that gives an exceptional streaming experience. Stream2watch features sports like football, basketball, netball, rugby, golf, tennis, and boxing. It doesn't require any login details or even a subscription to watch. It has a friendly user interface making it easy to navigate once you land on it. Although Stream2watch is so popular and provides high-quality videos, it has many ads that keep popping.
👍 Pros
Great user interface.
Quality links.
Tons of sports.
No login.
👎 Cons
Website: stream2watch.la
Content Featured: Football, basketball, netball, rugby, golf, tennis, and boxing.
---
2. Reddit
Are you finding it hard to stream your favorite sport from well-known websites? Reddit is here for you. With Reddit, you can watch unofficial streams from the links that its users share. As if that's not enough, with Reddit, you can create some communities known as subreddit communities dedicated to only certain sports making it easy to trace your sport. Reddit doesn't host these streams. Rather, its users and streaming site owners can share links for different streams in the right subreddit communities.
Although it might be risking clicking on random links, the subreddit communities make it somewhat safer to stream your favorite sport with Reddit.
Examples of subreddits:  r/formula1, r/boxing, r/soccer, r/MLBTheShow, and r/hockey.
👍 Pros
Access to unofficial streams.
Subreddits.
High-quality links.
Tons of sports.
👎 Cons
Website:  Reddit.com
Sporting content featured: football, baseball, rugby, hockey, tennis, boxing, and others.
---
3. SportRAR.TV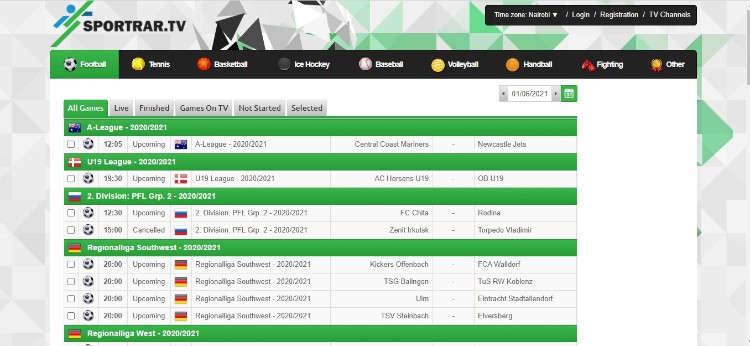 SportRAR.TV is yet another best sports streaming sites, and it gathers live streaming sports content and provides it for users in an easy-to-navigate interface. It provides streaming for all major sports, including football, tennis, hockey, baseball, basketball, boxing, and much more, with SportRAR.TV. Once you click a link, the site automatically opens a new window from where you can stream. If a link is faulty or redirects you to irrelevant streaming content, it provides additional links for the match.
Its biggest drawback is the intrusive pop-up ads that keep popping even with an ad blocker.
👍 Pros
Tons of sports.
Quality links.
User-friendly interface.
👎 Cons
Website: sportRAR.TV
Sporting content featured:  Football, tennis, hockey, baseball, basketball, boxing, and much more.
---
4. Batmanstream
Batmanstream is another of the best sports streaming sites. The site has been around for years, and its reputation as a sports streaming site is unmatched. It provides links to quality video streaming for sports like football, netball, basketball, tennis, golf, and many more others. When it comes to the user interface, Batmanstream is a notch high. It also has a widget that makes it possible for streaming website owners to promote links for their content. Just like other sports streaming sites, Batmanstream is affected by pop-up ads.
👍 Pros
Good reputation.
Solid design and is user-friendly.
Many active links.
👎 Cons
Misleading Youtube-like viewer.
Ad annoyance.
Redirects as a result of advertisements.
Website: batman-stream.com
Sporting content featured:  Football, basketball, hockey, rugby, tennis, golf, boxing, motorsports, and much more.
---
5. Streamwoop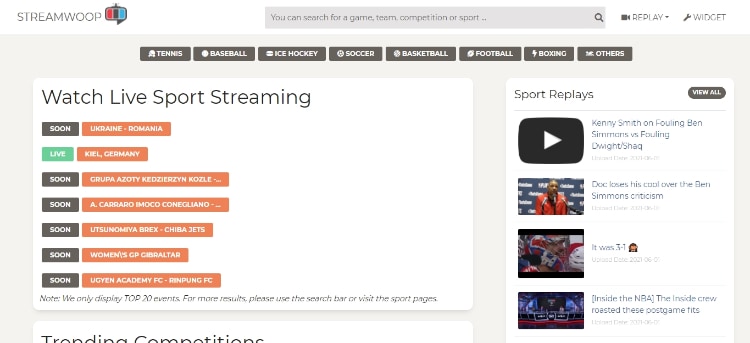 Streamwoop is a free sports streaming website with live sports, replay, and highlights. Thanks to its most extensive sports index, it has tons of HD streaming content.  The website also provides online TV streaming for several channels.
StreamWoop has minimal ad pop-ups, unlike other streaming websites. Further, its red, blue, and black color combinations give the website an intuitive look that gives a friendly user interface.
Streamwoop also provides a window from where you can check on the scores and proceedings of a game.
👍 Pros
Minimal ads.
Intuitive design.
Good links.
👎 Cons
Require sing-up.
Frequent misclicks.
Website: streamwoop.net
Sporting content featured:  Boxing, football, netball, basketball, golf, tennis, baseball, and much more.
---
6. FootyBite
FootyBite is a sport streaming for football fanatics that provides updates, previews, transfer scoops, and after-game reactions. Its streaming is prowess superb, and it covers leagues worldwide. On the site, you can get news, updates, and stats about a particular game. It uses Twitter API that gets embedded tweets on opinions, previews, interviews, transfers, and much more. Fans can stay up to date with the real-time updates found on this site.
The FootyBite site design is user-friendly, and one can navigate through it quickly. It's also compatible with both phone and computer with seamless streaming. Like other streaming sites, FootyBite has ads, but they have been carefully placed to minimize annoyance.
👍 Pros
The website is well designed
In-depth football coverage
Twitter integration
News and updates
👎 Cons
Website: Footybite.tv
Sporting content featured:  Football.
---
7. VIPLeague
VIPLeague has a good reputation as a sports streaming site with a friendly user interface. The website is easy to navigate with a chat box that freely lets users chat in real-time. This site is also home to more than 25 different sports, including football, basketball, golf, tennis, rugby, boxing, baseball, and much more. It has a search button that works effectively to provide the user with ongoing fixtures, current fixtures, actual game dates, and much more.
 Unlike other streaming sites, VIPLeague requires you to have an account, but that shouldn't worry you as it is easy and free to create one. All you need is to fill out your email address and password, and boom, you're in. VIPLeauge works on both phones and computers seamlessly. Although like other sites, it is faced with pop-ups and ads, they are well placed to reduce misclicks and redirects.
👍 Pros
Good reputation.
Easy to navigate.
Effective search button.
Chatbox.
👎 Cons
Website:  vipleague.lc
Sporting content featured:  motorsports, football, basketball, rugby, baseball, boxing, and others.
---
8. Sportsurge
Sports surge is a popular sports streaming site with tons of popular games such as football, NBA, MMA, hockey, and motorsport. The site provides top-quality links that enable its users to stream HD content. Previously, Sportsurge was restricted to NBA, NFL, and MLB, but currently, it has expanded its content to different sports such as F1, football, and MotoGP. Though it has little sports content, its coverage for the sports is in-depth.
Another thing that catches the eye is its dark design that provides HD logos of the sports they feature, making it easy to navigate different sports. Sportsurge is better than other sites because it does not run ads; thus, you don't have to care about adware and malware. Sportsurge also shares links for ongoing games, so it's not easy to land on misleading links.
👍 Pros
No misleading links.
No pop-ups and ads.
Quality links.
Great user interface.
👎 Cons
Currently on Beta version.
Website: sportsurge.net
Sporting content featured:  Football, NBA, MLB, NFL, MotoGP, and F1.
---
9. Rojadirecta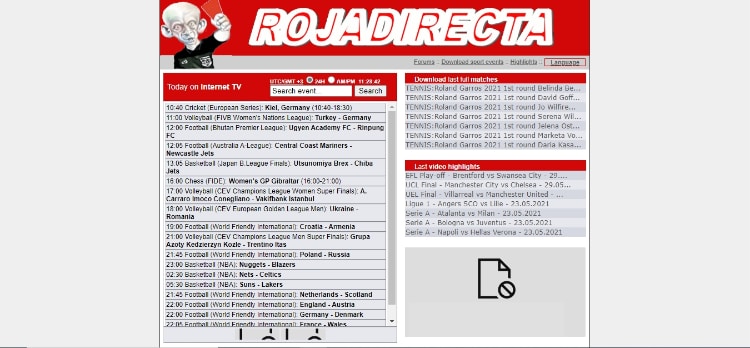 Rojadirecta is one of the oldest streaming sites with millions of followers from all across the globe. The website provides information on ongoing and upcoming sports events. It features sports like football, handball, netball, basketball, MotoGP, badminton, tennis, volleyball, etc.  Although it has no well-defined categories, you can reasonably access a lot of information about matches and tournaments on its homepage.
Rojadirecta provides real-time updates and can track time-based on your location, so there's no need to keep adjusting your time. One of the best things about the site is its BlogSpot links that allow you to download full games.  However, it doesn't include past or upcoming events, and download is only possible for ongoing games. Rojadirecta also has an active forum where its users can share information freely with each other.
👍 Pros
Tons of sports.
Active forum.
Real-time updates.
👎 Cons
No well-defined categories.
Website: rojadirecta.me
Sporting content featured: Football, handball, netball, basketball, MotoGP, badminton, tennis, volleyball, and others.   
---
10. LiveTV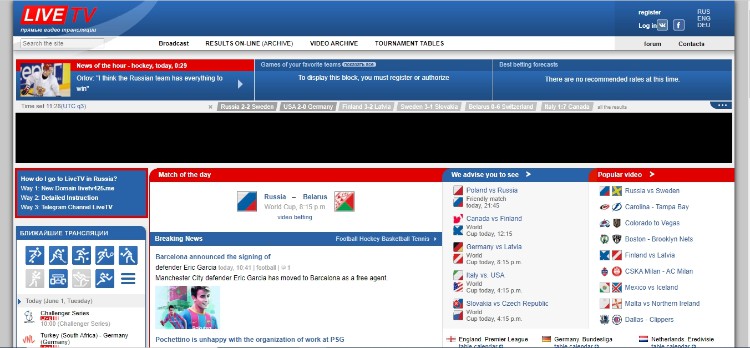 LiveTV offers a nice blend of major sports like FIFA, NBA, and NFL and obscure sports like volleyball and badminton. Apart from just streaming live sports events, the website offers up-to-date scores and results. This means that if you are busy or cannot stream, you can follow up on their site for up-to-date scores and results for your favorite game.
Although LiveTV does not have an application, on their FAQ, they recommend their users to download a browser called Puffin for iOS and Android phones that is compatible with its live streaming content. LiveTV has a basic design with errant words and information all over the site. The site is in Russian, but your browser should easily sort that out for you.
👍 Pros
Quality links.
Friendly user interface.
Tons of live sports.
Has a forum.
👎 Cons
Website: livetv.sx
Content featured: Basketball, football, wrestling, netball, golf, cycling, and badminton.
Don't fancy pop-ups & misclicks?
Sports streaming websites can often get annoying, especially if you don't have a good ad blocker, a particular site blocks the adblocker you use, or even the adblocker blocks the site. If this doesn't sound ideal for you, there are several other methods you can use to catch your favorites games or sporting events live and on-demand.
The highlights of the lot are free sports streaming applications and Kodi addons. We usually review the best of these, and below are a few guides to get you started.
Best Sports APKs to watch sports channels for Free on Android & Fire TV
15 Best Sports Addons for Kodi 2021 | Kodi Addons to Watch Live Sports
Best FileLinked Codes for Sports
How to watch live sports on Xiaomi Mi Stick for free: two methods
Wrap up
The best sports streaming sites are hard to find. There are hundreds of sites you can use, but most of them either provide low-quality links, are full of annoying adverts, or even host malicious content. The above list narrows down the list with carefully selected options.
However, beyond the malware and pop-ups, you also need to take care of your privacy. Ensure that you turn on a reliable VPN such as Surfshark to avoid any legal consequences!
Enjoy!