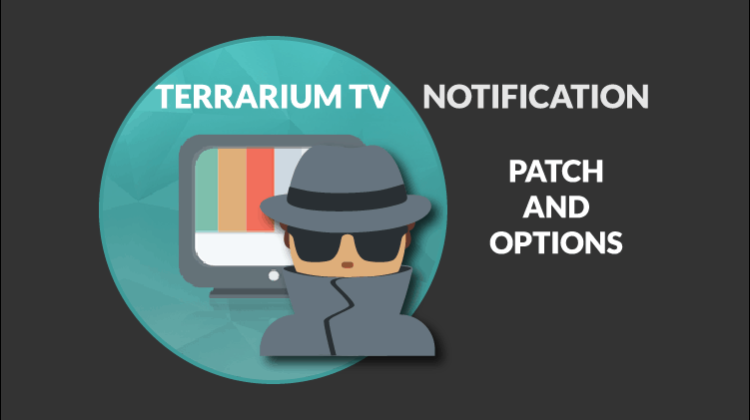 Terrarium TV has been for a long Time a referenced streaming application, for those passionate to watch movies and top TV series for free. This year its developer decided to stop it, but now an annoying Terrarium TV notification: Uninstall immediately. Your IP Address & Location are Being Tracked, pops up. Know whats behind it and the available patch and options.
In September, Terrarium TV announced that it would be shutting down for good. This left many users frustrated as Terrarium TV is a popular app for free movies and TV Shows. Many of them jumped to various Terrarium TV alternatives, but this wasn't for long. Patched and working versions of the app quickly appeared, and Terrarium started working again.
However, users started getting Terrarium TV notifications to tell them that their privacy is at stake and that they should uninstall the app. One of them is the popular, "Uninstall immediately! Your IP Address & Location are Being Tracked." Another one reads, "Terrarium TV – We can't guarantee that… details won't be shared upon request".
So why are you getting these warnings? Is Terrarium TV unsafe? Should you uninstall it?
One thing that we have noticed with NitroXenon, the Terrarium app TV developer, is that he wants Terrarium TV to vanish. In the initial shut down Terrarium TV notification, he wrote that,
"It has always been a great pleasure to work on this project. However, it is time to say goodbye. I am going to shut down Terrarium TV, forever."
And "I knew this day would come eventually. I knew it would be hard to let go. But it is really time for me to move on to other projects. Please note that you will not be able to open the Terrarium TV app after the end of September as the app will close itself automatically."
Immediately that Terrarium TV notification came out, the app stopped working even before the end of September. Various other developers modded the app but NitroXenon still got access and started sending the uninstallation notifications.
When asked about it by the popular File Sharing News site TorrentFreak, NitroXenon said that, "I'm just telling the truth. Almost every app tracks user's IP [addresses]. And if I must [hand] the info to authorities, then I'll do it."
During this interview, he remained coy on whether he was under legal pressure to shut down the app, or he just wanted the app to fade.
Can your data be handed over?
if the relevant authorities come looking for it, your data can always be handed over, with or without Terrarium TV notification. It is for this reason that we always advise all our readers to always keep their internet activities private and secure through a trusted and reliable VPN service.
ISPs and governments are always spying on users to know what you do when connected to the internet. They can know what websites you access, and what type of content you stream. Streaming of pirated content, for example through apps like TTV is illegal, and can therefore make you receive a DMCA notice or have your internet throttled. This also applies to other streaming apps like Morpheus TV, Mobdro, Showbox, etc.
To keep your identity private and your data secure, we always advise all our users to use a VPN. A VPN encrypts you data and securely tunnels it to a server of your choice. This server spoofs your real IP address and gives you a new public IP address. At this point, your ISP can't know you are doing online and if you are using a private and logless VPN, no one can.
The best VPN for streaming, and one that I have been using for over two years, is Surfshark. The VPN is based in a friendly jurisdiction, keeps zero logs, has many servers, and it's the fastest you can get. To help you avoid being tracked by ISPs and app developers, we managed to get a 82% of the best VPN for streaming.
Click here to save 82% of Surfshark now!
What Should I do with Terrarium TV notification?
Even if Terrarium TV threatens and indeed does forward your data to authorities, this should not worry you if you have a good VPN, like Surfshark. The IP address they see will belong to the VPN server that you have chosen. Since Surfshark doesn't keep any of your usage logs, you'll be completely safe.
Despite the Terrarium TV notification, at the moment, you can always get a patched version of Terrarium TV. For this you need to install Aptoide TV. This app, known as the mother of all the apps, acct as your private app store. After install it you'll find numerous version patches for Terrarium TV; just pick the most rated patched version and give it a try.
Visit our guide on How to Install Aptoide on your Android device!
After downloading it to your Android device, go ahead and install it. Before you start streaming, turn on your VPN and connect to a server near you for the best speeds. You can then stream any of your desired movies/ TV shows on Terrarium TV.
If you are not confident enough to continue using Terrarium TV with these threats, you can check out our list of the best Terrarium TV alternatives. Note that with all these apps, you'll need to use a VPN to stay private and secure, as well as to avoid ISP throttling. If you still don't have one, or you are insecure on which to choose, visit our review on the best VPNs and pick the one that fit your needs.
Hope this post about the Terrarium TV notification, solutions and alternatives has helped you.
Have a great day!
Disclaimer: At BestDroidPlayer, we do not promote the use of apps to illegally obtain content. We also don't take any responsibility for your actions or any legal problems you encounter, and that is why we always advise you to use a VPN.