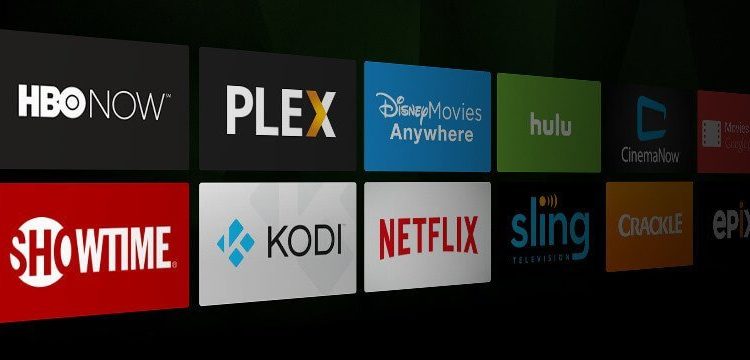 An Android TV Box can give you the best smart TV experience. It uses Android as an operating system which means you can install any app from the Google Play app store. In this article you can find a list of the 9 best apps for Android TV Box, feel free to share more ideas.
The 9 Best Apps for Android TV Box
So, our best apps list is:

Kodi – Media Centre
Kodi is the must-have app! It's for sure one of the best apps for Android TV Box and it normally comes pre-installed.
Kodi is a free and open-source media player software application. Kodi allows you to stream any kind of media, such videos (including movies, TV series, documentaries, TV Channels, sports streams, videos from the internet, etc), music (music libraries, radio, etc), and podcasts.
To enjoy the most of Kodi you will need to install some cool Kodi free addons. There are video addons to watch movies, TV series, documentaries; addons to watch TV Channels from all over the world, addons to play music; you can find addons to stream any kind of media!! You can even upload an IPTV list with your favorite TV Channels and stream them from Kodi (XBMC).
>> Click to find the Best Kodi addons
---

Popcorn Time – Watch movies and TV Series
Popcorn Time it's a free software BitTorrent client with an integrated media player. This is one of the best free apps, an alternative to paid video streaming services such as Netflix.
You will find Popcorn Time a very easy to use platform with thousands of HD movies and TV Series. You can filter them by genre, trending, popular, top-rated, release date, year, and A-Z. After you select the movie / TV series that you want to watch, you will find the synopsis, rating, trailer, and more info about it. You can then also select the quality (480p, 720p, 1080p) and subtitles language if you need subtitles.
Once you click to play, it will start to download a small percentage of the video (torrent) upfront and then it starts streaming while the download it's happening on the background. When you close the app, it will delete the download from your device.
You don't need to learn anything to use this app, it's even easier than Netflix.
How to install?
Just visit our Popcorn Time Install Guide
---

Chrome Browser
Chrome it's the native Android Browser and it normally comes pre-installed in the Android TV Boxes.
With chrome and an Android Box, you will be able to navigate on the internet using your TV.
---

Skype
Making video calls through a TV makes very much sense right? Be seated on the sofa, without a laptop in your lap or holding a smartphone and watch your friends or family on the big screen!
For that, you will need a webcam and a micro compatible with Android or you can buy an Android TV Box with Webcam and micro built-in.
---

Youtube
As youtube its a video streaming service it makes sense to use it in your TV. You can play some videos using Full-HD 1080p or even UHD 4K and the experience it's obviously much better than play it in your smartphone or laptop.
---
Games
Do you play fancy Android games on the big screen? With an Android Box, you can install any game from Google Play Store!
If you are a big fan of games, NVIDIA just launched an Android TV Box for fans of games and streaming! The box has wonderful specs and allows you to use NVIDIA GRID streaming service and NVIDIA GameStream™! His name is NVIDIA Shield and it's not expensive for a box that you can use for streaming and gaming! Check our NVIDIA Shield review!
---

TV Player
With an Android TV Box, you don't need TV service or a Freeview box to watch UK Freeview channels. There are many options to watch TV and one of the most reliable is the TV Player that allows you to stream free view TV Channels and more. BTW, it's totally legal and FREE!!
TV Player channels:
BBC 1
BBC 2
BBC three
BBC four
BBC Red
ITV
Channel 4
Channel 5
REALLY
BBC News
Yesterday
Drama
Dave ja vu
4 Music
CBBC
Cbeebies
Quest
Food Network
Fashion TV
Viva
Travel
BBC Parliament
CNN
QVC, QVC Beauty, QVC Extra, QVC style
And some more.
An alternative to TV Player is TV Catch-up, it worths the try.
---

Red Bull TV
Red Bull TV brings to your Android TV Box exclusive awesome videos from globetrotting adventures, music, entertainment and live events with the participation of the top athletes from around the world. Get amazed in the world of Red Bull with this app in your Android TV Box.
---

Vevo
If you love music, among the best apps, this app is a must to have. The new Vevo app gives you a personalized music experience allowing you to pick your favorite artists and get notified when they launch new music videos, live sessions, interviews, and more.
---

Surfshark
A VPN it's a legal service that makes you anonymous to others when you're connected to it. The best part is that you can select from which country you want your temporary IP to be. So if you want to stream US only streams you just need to connect to your VPN and select USA to be your mask. That will allow you to use any service allocated to US citizens only.
>> Go to Surfshark Website
---
I hope you liked my list on the Best Apps for Android TV Box. If so, please feel free to share with us some more cool apps that you use on your Android TV Box.
---
Can't you stream some content?
Check the Log for more information. ?


Empty directory ?


Solution:
Most of the time that you get these annoying errors is because the content is geo-locked. This means that you are trying to access content that is blocked for the country/region where you are connecting from. For eg, if you are in the UK trying to watch an American TV Channel.
Are VPNs legal?
Yes, they are totally legal, as you have the right to stay anonymous.
There is a couple of VPNs that you can use with Kodi, however, there is only one that stands out as the best VPN for Kodi >> Surfshark.
Surfshark is probably the fastest VPN provider out there, and you need as much speed as possible to stream. There are free VPNs, but they use slow servers and then the streams would be constantly buffering. With Surfshark you will get the best VPN experience available for the most competitive price.
Special Offer: $12.99 $2.30/month
30-Days Money-Back Guarantee
Get the most of Kodi with Surfshark:
Unblock Geotargeting to access any content regardless of where you are located
Bypass any censorship put in place by websites or streaming providers
Stay truly anonymous when streaming content to your Kodi device
We've arranged an EXCLUSIVE deal with Surfshark to give our readers 82% discount. Just click on the button bellow.
Access All Kodi Add-ons Now!