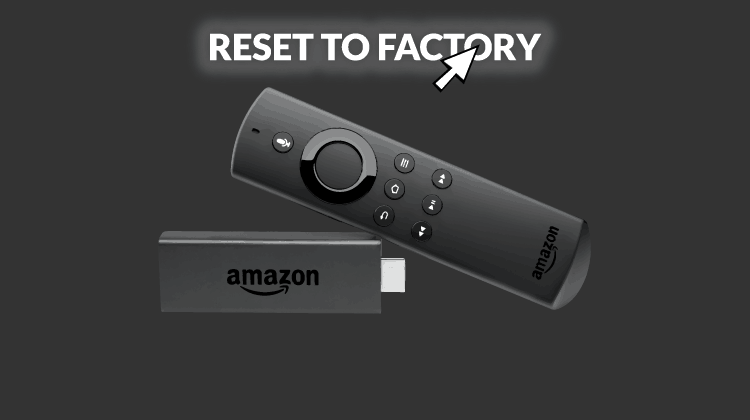 During use, the devices gather software errors that cause other errors until they stop working. Streaming devices are no different. Learn How to Reset your Firestick or Fire TV device to factory and give them a new breath…
The Amazon Firestick is one of the best streaming devices that you can get in the market at the moment. It is based on a fork of Android, and so it supports the installation of many Android apps that can transform your home entertainment. However, due to this flexibility, the device can easily get some problems. Many users have reported issues with network access after installing certain apps, especially file sharing apps. The device may also start getting slow for various reasons, or even get stuck on a blank screen.
Resetting your Amazon Firestick always breathes new life on the device, and it will start working as expected once more. For whatever reason you'd like to format your Firestick, here's a simple guide that you can follow.
How to Reset your Firestick or Fire TV
In this tutorial on How to Reset your Firestick or Fire TV, we are going to talk about to easy methods you can use depending on the situation. The first one is useful if your device hasn't stopped functioning yet. The second one is meant for devices that are no longer responding; they are just stuck or showing a blank screen.
Reset through the settings Button
This method is applicable if you device has not stopped working yet:
Go to the home screen of your Firestick or Fire TV.
Select The button is on the top side of the screen
Click on Device, and you will get the option to 'Reset to Factory Defaults' at the bottom.
On clicking it, you will get a prompt confirmation "You are about to reset your Fire TV to its original factory settings. Your sign-in information and personal preferences will be lost".  Click the Reset
The system will go through the factory settings restoration process, and this can take approximately 5 to 10 minutes.  Be patient and wait for your Amazon Fire TV to reset. Your device will now be ready to use.
Reset through the Remote
This method supposes that your device is non operational. In this case, you can easily reset Firestick using the remote if you can't access the settings panel. So, just initiate the Reset and Restore process by pressing the Right and Back buttons together for 10 or more seconds.
You can now start restoring your apps. To help you get started, we have a detailed list of the best apps for Firestick 2018, so go ahead and check them out. One of the apps that you should definitely have on your Firestick is Kodi. The media organizer and streamer will transform your home entertainment and breathe in a new lease of life, thanks to the extensive list of third-party addons that allow you to watch almost anything free of charge.
Here's a detailed guide on how to install Kodi 17.6 on Firestick.
Using your Firestick or Fire TV Safely
However, you will always need a reliable VPN like Surfshark whenever you want to stream anything on Kodi or any other side-loaded app whose content you don't own. This because consumption of pirated content is illegal, and it can easily lead to DMCA notices or legal action. Surfshark will protect you from such by encrypting your traffic and then securely tunnelling it to a server of your choice. This way, your ISP or government will never know what you were doing when online. Further, you won't have to worry about geo-restrictions or ISP throttling with Surfshark. With the VPN, you will even be able to unblock Netflix US and any other Netflix library!
Click here to save 82% of Surfshark now!
Conclusion
In this article on How to Reset your Firestick or Fire TV to factory, you've learned to solve those annoying typical software errors. Depending on the situation we've showed you the corresponding procedure to solve it. Once solved you must remember you are using a streaming device, which may access to copyright protected or blocked contents; so, as a way to know if your problem was solved, as well to stay on the right side of the law, you should always use a Good VPN!
Hope this article on How to Reset your Firestick or Fire TV to factory, have helped you to recover you lovely device.
Wish you good and safe streaming!