Cerebro IPTV is an all-in-one Kodi add-on. It gives you access to the latest movies as well as live and on-demand Television content in a simple interface.
If you're a fan of comic books and the X-Men, in particular, you might recognize the name Cerebro. From the comics, Cerebro powered Professor X's prodigious talents while he searched for mutants around the world and while Cerebro IPTV is not as powerful as it does make Kodi significantly more useful.
If you're a fan of live TV and sporting events, then this is add-on is one that you cannot afford to pass by. Cerebro IPTV works based on the Mobdro servers and it has tons of different sections. In addition to live TV (already mentioned) it also offers a movies sections.
Before I get into details about how to install it though, let's make sure that you have some protection as you definitely would not want the Brotherhood or the Sentinels tracking you down!
Why You Need a VPN
VPNs serve a dual function when it comes to Kodi add-ons. As many Kodi addons offer access to copyright content (Cerebro IPTV is one of these) there is a risk that your ISP could buffer. Otherwise, it will slow down your internet connection when using the add-on. ISPs do this for a variety of reasons. But the impact on you and the members of your household is quite significant. Of course, that's only the tip of the iceberg as more seriously you could face fines and prosecution using these add-ons.
Fortunately, VPNs are available and they serve as your shield. You see, not too long ago, net neutrality rules ensured that your internet connection was private and secure, but with the change in these laws, that security is no longer there. VPNs set up a secure, private connection between your streaming device and the VPN server. This encrypted connection ensures that your online activity remains private and secure. This feature by itself ensures that VPN services like Surfshark are worth purchasing. But when you get that service at a massive 82%, then its even more worthwhile!
The security by itself might be enough of an argument to purchase a VPN, but there is another reason to consider one also. VPNs like Surfshark have an ability to bypass geographic restrictions. You might have experienced this when you try to access a specific website or video and receive an error message along the lines of "this content is not available in your country or region" or something like that? If that sounds familiar, then you've been impacted by geo restrictions and it's a real pain!
Fortunately, using a service like Surfshark it's easy to get around these restrictions. You see, when you use a VPN service, you simply have to connect to a VPN server in a country where the content is available. The server will mask your local IP address. And give you a new one that makes it appear as if you're logging in from that country and you will now be able to access the stream!
When it comes to VPN providers, Surfshark is the best VPN for Kodi. We managed to get an exclusive 82% of Surfshark.
Click here to save 82% of Surfshark now!
Installing Cerebro IPTV
Kodi is nothing without its add-ons and one of the best repositories on Kodi is unfortunately no longer available. However, if you don't mind jumping through a couple of different hoops, then I've got a solution for you that will still get you where you need to be!
Installing the Kodil Repository
Before you can install Cerebro IPTV, you need to first install the repository so let's go through those steps now.
Open Kodi > Settings > File Manager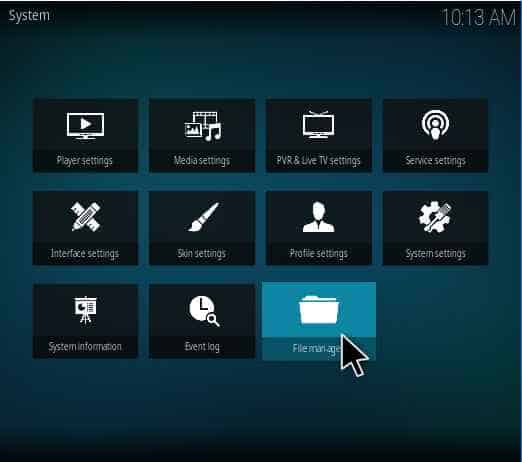 Double click on Add Source > None and then type http://lazykodi.com and press OK.
Name this something memorable (Lazy is pretty good) and then press OK
Go back to the main home screen and then Add-ons > Box Icon > Install from Zip and select Lazy (or whatever name you used).
Select Repositories > Androidaba > Repository > repository.kodil-x.x.zip and wait for the Addon installed message

Install Cerebro IPTV
Now that you've installed the Kodil repository, simply follow the steps below to get Cerebro IPTV installed.
Head back to the home screen and select Add-ons then select the Package Installer icon in the left panel.
In the next screen, click on Install from Repository. Find the Kodil Repository and click on it.
Proceed to Video Add-ons > Cerebro IPTV+ > Install.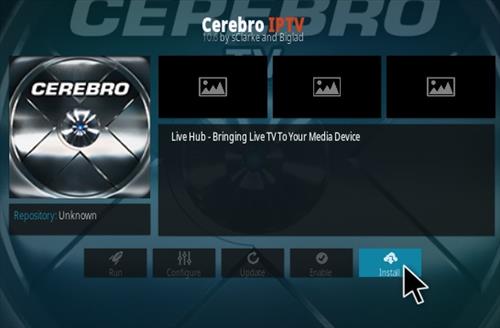 After a notification shows confirming the installation, you can now use Cerebro IPTV+
To use it, return to main menu and select Add-ons > Cerebro IPTV+
REMEMBER:  Cerebro Kodi Addon offer access to copyright content. This article is for informational purposes only; therefore Bestdroidplayer assumes no responsibility for the copyright infringements you may commit when using this Kodi Addon.
Protect yourself using a good VPN like Surfshark or find here a review of the best VPNs and choose in conscience!