Who doesn't like streaming media content online and Kodi provides exactly this with its numerous add-ons. Like many others, FREE is another video addon that runs on Kodi, to bring its users all the links to their favorite content. It scrapes the links from different sources on the internet and compiles them all in one place for easy access. FREE can be found in the DejaVu repository, which has many popular addons like SkyNet and DejaVu. Furthermore, you are only required to make a single click to watch any TV Show, videos, movies, etc. The addon is compatible with all devices including Amazon Fire TV stick 4k. The installation is easy and this is why we have jotted down a few simple steps for you on how to Install the FREE Kodi Addon.
Features of FREE Kodi Addon
Among the many Kodi addons found on the internet these days, only a few can be relied upon. FREE Kodi addon is indeed one of them. It offers a wide range of content including movies, documentaries, TV shows, videos and so much more! Most of the content is up-to-date and well-organized into categories and lists for easy navigation.
FREE Kodi addon is compatible with all devices including Amazon Fire TV Stick 4k. If you have not installed Kodi on your Firestick, I urge you to do so as it is a great way of getting the latest entertainment quickly and easily. The video and audio quality of all the links are fantastic, and it is guaranteed that you will not have to wait for the links to load or buffer. You can enjoy all the content in HD and smooth playback. The interface is also very simple and easy-to-use, especially for new Kodi users.
Advantages of FREE Kodi Addon
The audio and video quality of all the streaming links is remarkable
The video addon provides all media content like movies, documentaries, TV shows, series, and so much more
Well-categorized lists of content to choose from
It is found in the DejaVu repository, which is reliable and well-known.
It offers one-click playback so you do not have to select from a list
Disadvantages of FREE Kodi Addon:
As FREE is a third-party addon, we suggest you use a VPN with it.
Almost all of the links work smoothly, but just a few might be broken.
What is VPN used for?
Kodi has a great deal to offer, but when it comes to online streaming, we want you to keep safe from all threats found on the internet. This is why we recommend you to use a VPN. What is a VPN, you ask? A VPN is a Virtual Private Network, that acts as a barrier between you and the websites you are surfing. It shields you from outside threats like viruses, malware, identity theft, and whatnot, and also encrypts your personal information. Find out more about VPNs here.
While streaming online media content, we tend to click on various links from different sources of the internet, and this can make us more prone to viruses, hackers, etc. The FREE Kodi addon is a third-party addon, which is why we want you to be extra careful and use Surfshark to guard you against all these threats.
Why Surfshark?
We recommend Surfshark because it has servers around the globe to protect you by encrypting your info and safeguarding your browsing activity, thanks to its:
⚡ Superb Speeds: Guarantees a smooth live streaming experience.
🌍 Huge Server Network: You can connect to a nearby server for a fast and stable connection.
😲 UNLIMITED Devices: Connect dozens of devices at the same time!
🔑Unblock Anything: Safe access to censored apps, websites and torrent sites.
😎 Best in Privacy: The VPN doesn't keep any activity logs, and so your activities are only known to you.
🔐 Top-notch Security: This VPN uses AES 256-bit encryption and provides multiple protocols alongside other security features such as a kill switch, DNS & IPv6 protection and WireGuard.
💳 30 Days RISK FREE Money-Back Guarantee: In case you do not like the service, you can get every penny back if you cancel within 30 days!
Surfshark also has amazing customer service for its users. The customer representatives are very helpful in sorting out all your VPN related issues in no time! Moreover, the VPN offers a 7-day money-back guarantee in case you are not fully satisfied with their services. We highly recommend Surfshark for all Kodi users, especially if you use it to stream online media content regularly.
We were able to get an exclusive 82% of Surfshark.
👍 Save 82% of Surfshark now!
Steps to Install FREE Kodi Addon
For all Kodi lovers out there, here is a complete and easy, step-by-step guide to follow, on how to install the FREE Kodi Addon:
Launch your Kodi app.
On the top of the left pane, click on the Cogwheel icon and go to the System option.
Now go to Add-ons, and enable the Unknown Sources toggle button by turning it ON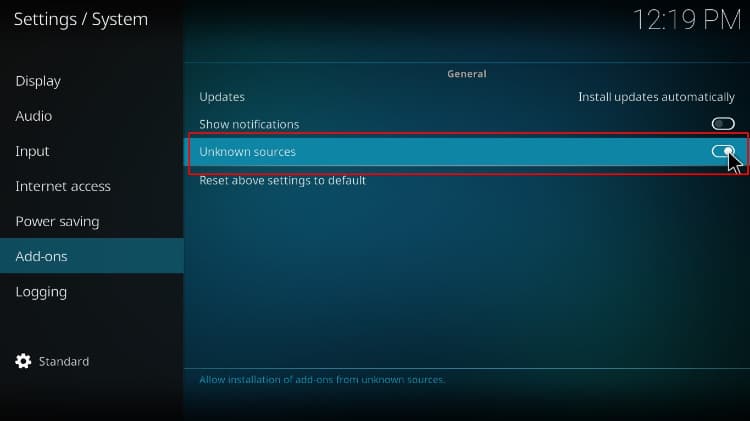 Press YES, and make your way back to the Home screen.
In the File Manager option, double-click on 'Add Source'.
Double click on the <None> option and type in the repository exactly as given below: https://dejavurepo.github.io/
Now in the media source name, write any name for it, for example, 'Deja Vu'.
Click OK and now go back to the System settings again.
From there, select Add-ons.
Click on 'Install from zip file' and then select the media source named 'Dejavu'.
Here, click on the URL repository.DejaVu-.zip and within a few seconds, you will receive a notification saying it has been installed.
Now, press the Install from repository option, and select the Dejavu Repository from here.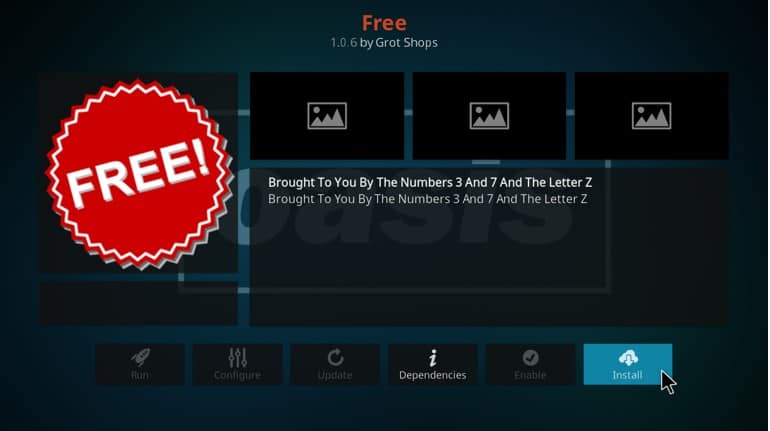 Now, make your way to video add-ons and select the FREE addon, and hit Install. Note: if you have a problem installing the addon try a couple of different times. It took me three attempts to install it, but it is worth the effort.
Now you will receive a notification that the addon has been installed, and hit OK if it asks to install any additional dependencies.
Double-click on the addon and select Open.
Enjoy the unlimited content FREE Kodi addon has to offer!
Conclusion
The FREE Kodi addon offers all the features and content that most Kodi users are looking for. This includes unlimited links to movies, TV series, documentaries, videos and so much more to choose from! The audio and video quality is always up to the mark and all the links work smoothly without lagging. Furthermore, the interface is simple and easy to use, and the content is organized into lists and categories to make sure it is easily accessible to the users.
However, since FREE is a third-party addon, like many others, we recommend you use a Good VPN like Surfshark before streaming anything on the internet. It will help you stay safe from all kinds of threats you might be exposed to and keep your information hidden and encrypted.
Hope you find our installation guide easy, on how to install the FREE Kodi addon and Enjoy all the amazing content it has to offer!