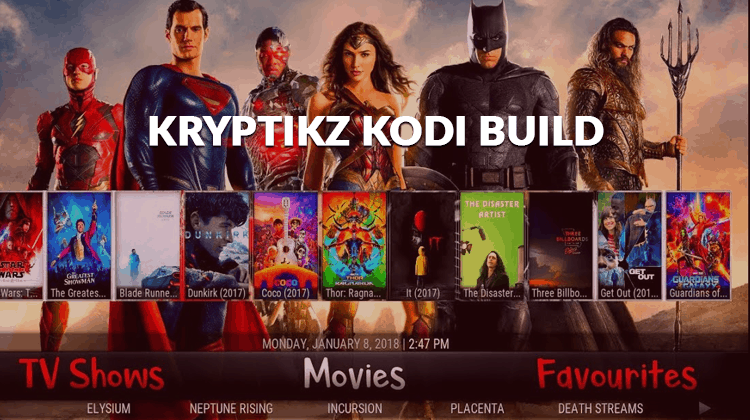 One point to note with Kryptiks and in fact, most Kodi builds that you add onto Kodi – it will completely remove the standard look and feel of Kodi so you will need to relearn where the different settings are located. This is not meant to scare you away but should be kept in mind if you are a beginner to the world of Kodi.
The Kryptikz Team ZT Build is a great Kodi build that can run on any device with Kodi 17.1 or later version installed such as FireTV & Firestick, Windows PC, and Android TV.
A common complaint about this Kodi build is its massive size (374 MB) but the selection of popular add-ons and tons of content make it worth the while.
The content is well categorized with narrowed down subcategories for movies, documentaries, live sports, TV shows, kids' entertainment and video add-ons. All the popular add-ons are included like:
Rising Tides,
The Pyramid,
Invictus,
YouTube,
Star Tec,
Boondock,
UKTV Play, and
Elysium among others.
The build is a product of Team Zero Tolerance, a team that has consistently provided Kodi viewers with high quality builds.
Important: Use Kodi Anonymously
It is highly recommended to use a VPN when streaming with Kodi.
Although there are a plethora of add-ons on Kodi, users cannot access the content on many of them due to geographical restrictions. However, this restriction can easily be bypassed by using a VPN. VPNs mask your IP address and make it appear as if you are in a different location.
This is a huge advantage when it comes to Kryptiks and other Kodi builds. With all of the included Kodi add-ons that are part of the build, it's a massive plus when you can access all of the content!
Bypassing georestrictions is not the only advantage to be considered when it comes to Kodi though. With the recent changes to the net neutrality rules in the US, ISPs and the Government have significantly greater power when it comes to monitoring your activity online.
With ISPs the problem is that they can throttle or slow down your online browsing – this is a significant risk with Kodi. Fortunately, VPNs create a virtual tunnel between your device and the server broadcasting the content. Traffic that passes through this tunnel is completely private and inaccessible.
Surfshark is a great VPN service that runs smoothly on all Kodi versions and device platforms.  With 1000+ servers in more than 60 countries, you can simulate multiple locations for privacy and to help you bypass content restrictions.
Among VPNs, Surfshark has one of the fastest internet speeds with unlimited bandwidth and unlimited P2P traffic and server switching. Security is reinforced by 256-bit AES encryption and zero traffic logs. The best part though is that we've negotiated a special deal so that all of our readers get Surfshark at 82% off the normal price! Just click here to apply the promo code.
How to install Kryptikz Team ZT Build on Kodi
As already stated, installing this build will remove any existing ones since you have to perform a fresh install. Here are the steps to install Kryptikz Team ZT Build:
Since Kodi blocks third-party installations by default, you have to enable 'Unknown Sources' first. To do this, launch Kodi and open the 'Add-ons' menu then open 'Settings' and toggle 'Unknown Sources' to ON. Make sure that you accept the warning message.
Next, return to the Home page and tap the 'gear' icon to open the 'Settings' Click the 'File Manager' > 'Add Source'. When the pop-up window appears, click <none> and in the URL text field type http://repozip.zerotolerance.gq/ and then hit 'OK' to continue.
In the next text field, enter "KryptikzZeroTolerance" or something else that is memorable as the repository (media source) name and click
Return to the home screen, open 'Add-ons' and click the repository icon (open box icon). Choose 'Install from zip file' and select KryptikzZeroTolerance.
Inside, you will see a file named 'repository.zt.zip'; click on it and wait for a notification that the add-on has been enabled. This will install the Zero Tolerance (ZT) Wizard.
Once again, go back to the 'Add-ons' menu and select install from repository > Program Add-ons > Zero Tolerance Wizard and open your build.
You will be prompted to keep some legacy settings if you wish and then further prompted to the 'Build Menu'. From this menu select Kryptikz > 'Fresh install' option and wait for a notification that the installation was successful. After the installation completes select 'Force Close' and restart Kodi to start enjoying the Kryptikz Team ZT Build (note: give it a couple of minutes after restarting for all of the add-ons to configure and install).
The best of Kryptikz Build
Multiple working add-ons included and ready to go.
Clean and simple loading screen with only the necessary information presented
Configurable and simple to use. The initial menu provides three options but this is easily customizable and expandable.
Extremely fast on launch
Don't forget to use a VPN like Surfshark to keep you anonymous and unblock all the sources. This is very important! Click here to apply 82% discount on Surfshark.