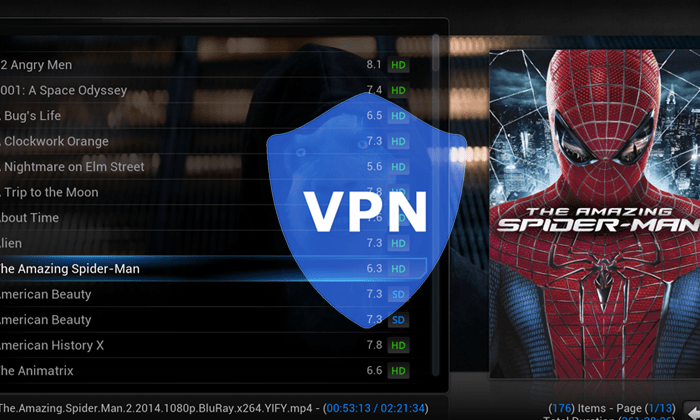 When streaming on Kodi it's important that you protect yourself with a VPN. In this article I explain what's a VPN and why you should use it.
With the popularity of Kodi, growing controversy has begun to rise. Many users and non-users wonder if the app breaks laws. It allows users a free and simple way to view the latest movies, tv shows, and even tv channels with live tv add-ons.
The Kodi application is an open-source platform. This means virtually anyone can post on the platform whether it be legally or illegally. This can also easily pose a problem as the security of users will then be at risk. Users need to understand that using this platform will mean they are liable for what they watch and download.
What is a VPN?
A Virtual Private Network. This helps users connect to servers via an encrypted server. Any data being transmitted between your computer, tablet even your movie box can be transmitted through an encrypted server.
In order to use a VPN network your first step is to sign up and purchase a monthly subscription. Note: a VPN monthly subscription can run you anywhere between $5.00 USD – $10.00 USD. You may be able to receive a discounted price if you pay for 6 months or a year up front.
We've arranged an EXCLUSIVE deal with Surfshark to give our readers 82% discount. Just follow this link
Why was VPN developed?
Originally VPN was developed for corporate offices. It allowed remote workers a way to connect with the office and access secure and private documents. VPN is still utilized in this way but the name has changed and is more commonly known now as commercial VPN.
How does VPN work?
You should already have an idea of what a VPN does. If you're still unsure breaking it down is no issue. Simply put when you first connect to your internet you are connected to an Internet Service Provider(ISP) that connects you to web pages. All information carried out on your devices passes through the ISP server and this information is stored and monitored by your ISP.
When using a VPN all your data is instead passed through the VPN server and encrypted so only you and your VPN know and no one outside can access or see it.
So, do you need a VPN when streaming on Kodi?
Not all streaming adds-on and tv shows are passed by copyright laws and are legal to watch. This means when using your Kodi app as the user you absorb the legal issues that may arise from watching your favorite show. Having a VPN enables you to stream your shows without worrying about being watched and reported by your ISP.
Many times, the location that your VPN may show to monitors watching out for illegal activity on the internet isn't even in the same country as you. This means you are able to safely view your shows without worrying about falling into trouble.
The Surfshark doesn't keep logs of your traffic. Always choose a VPN with a no-logs policy.
5 reasons you should use a VPN while streaming
If you're still not convinced here are 5 reasons you need to use a VPN while streaming on your Kodi app.
Your ISP won't be the smarter.
As mentioned before streaming on the Kodi app is not always the best choice as not all sources are legal for viewing. This does mean you run the risk of prison time for illegal viewing and violating copyright laws in your country. If you are still looking to view your favorite shows still the VPN will help to protect you from getting in trouble with your ISP and authorities. Your ISP won't know what you are doing on the internet due to your data being encrypted.
Public WIFI spots are now safe.
Because the data you are inputting into your device is now encrypted by your VPN hackers are no longer able to access it. If you happen to be out of town and still want to watch your favorite shows the VPN makes it easy and protects you no matter the ISP you utilize.
Able to access even more content.
You may not realize this but your location affects what you are able to download and view especially on your live tv. Channels such as HBO, BBC, and ESPN are all geo-blocked in certain countries. Because the VPN shows your location as being in a different country you will be able to unlock the benefits of this and access more content.
It's completely legal.
You may be wondering if this is even legal to use considering that it allows you to watch illegally uploaded content safely. It's completely legal to use. There are a few countries such as China and Iran however that do ban the use of VPNs. The ISP in these countries will not allow you to purchase VPN services from other countries.
Torrents are safe depending on your VPN provider.
Not every VPN provider is going to allow you to safely use torrents so you will need to find out if the one you are purchasing does before paying. But due to the encrypting data offered by VPN services you will be able to download Bit Torrent with no issues. The Surfshark is my recommendation if you want to use Torrents safely.
Conclusion
A VPN service should always be used when streaming on Kodi to help protect you and your data. Without realizing you may stumble upon illegally uploaded content and depending on where you are located you could end up in legal trouble. VPN services help to disguise what you do on the internet without your ISP knowing. It even helps to unlock more channels and add-ons as your VPN may be in another country.
There are many VPN services out there, however, there is only one that stands out as the best VPN for streaming >> Surfshark.

With Surfshark you get:
Android TV Compatible
Secure Access to ALL Kodi Add-Ons
Fastest Streaming Speeds
Prevent ISP Throttling
Hide Your IP Address
Zero Activity Logs
We've arranged an EXCLUSIVE deal with Surfshark to give our readers 82% discount. Just follow this link.