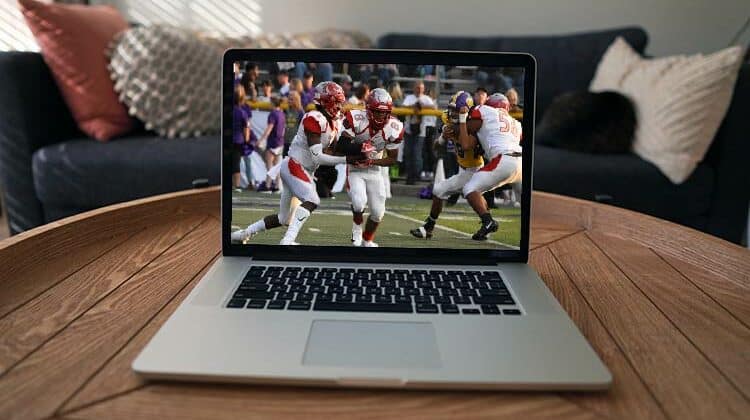 Based on photos by Joshua Mayo and Chris Chow on Unsplash
Want to watch live sports on Windows? Here's how to install Dofu Sports app on PC.
Watching live sports provides the best thrill and entertainment as you cheer for your favorite team. And even if you can't watch the game live, there are lots of ways you can catch your team in action.
We often review some of the best and most popular sports streaming apps, such as RapidStreamz, and today we'll look at yet another one – Dofu Sports. This guide will give you a detailed app overview and show you how to install Dofu Sports on PC.
Here's how to install Dofu Sports on Firestick & Android TV
What is Dofu Sports App?
Dofu Sports is a free Android application that provides one of the best live sports streaming experiences. The app offers multiple links that you can use to stream NFL, NBA, NCAAF, MLB, and NHL. These links are sourced from different networks broadcasting the game, so you can choose whether to stream from ESPN, CBS, NFL Network, etc.
Besides live stream links, Dofu Sports also provides live scoreboards and standings. These pages are very detailed; you can use filters such as weeks, box score, play-by-play, team stats, division, season, etc.
Dofu Sports is completely free to download and use so you won't need any subscription.
Is Dofu Sports App Safe & Legal?
Dofu Sports is completely safe as the app doesn't host any malware, based on our analysis of the app on VirusTotal. The adverts used to support the program are also safe.
However, things are not that straightforward when it comes to legality. This is because Dofu Sports provides links to premium TV channels and streaming services, which would otherwise be paid for. The app scrapes these sources from the internet, leaving the responsibility of vetting them to the user.
⚠ Stream Safely!
Your ISP always watches and logs the sites and resources you access online, so it's important to ensure that you do not access illegal content unknowingly. To keep your online activities private, we highly recommend using a VPN.
The VPN will encrypt your entire internet traffic to ensure your ISP and government can't snoop on you, and it will also change your IP address to make you anonymous.
The VPN we recommend
For maximum privacy and a smooth streaming experience, we recommend you use Surfshark. The VPN provides a superb balance of privacy, speed, and security, making it the best for streaming.Surfshark highlights:
⚡ Superb Speeds: Guarantees a smooth live streaming experience.
🌍 Huge Server Network: You can connect to a nearby server for a fast and stable connection.
😲 UNLIMITED Devices: Connect dozens of devices at the same time!
🔑Unblock Anything: Safe access to censored apps, websites and torrent sites.
😎 Best in Privacy: The VPN doesn't keep any activity logs, and so your activities are only known to you.
🔐 Top-notch Security: This VPN uses AES 256-bit encryption and provides multiple protocols alongside other security features such as a kill switch, DNS & IPv6 protection and WireGuard.
💳 30 Days RISK FREE Money-Back Guarantee: In case you do not like the service, you can get every penny back if you cancel within 30 days!
You can
get Surfshark at 82% off
using the link below!
How to Download Dofu Sports on PC
Dofu Sports live stream app is easy to install on Android mobile devices as the app is readily available on the Google play store. However, to install it on your PC, the procedure is a bit longer. Don't worry, though, if you are a sports fan – we'll take you through the entire process. From there, you can install other Android apps, such as CinemaHD and CyberFlix, to watch free movies and TV shows on Windows.
Step 1: Choose & download an emulator
The first thing you need to do is download an emulator for your PC. This program will enable you to run Android apps on a windows device. One of the best emulators for PC and Mac is Bluestacks, and it's the program we'll use for this guide.
You can download the software from bluestacks.com. The program is also available for Mac.
Note that you can also use other emulators as they follow a similar procedure.
Step 2: Install the emulator
After downloading the setup file, you can run it on your PC. The program will first download all necessary files, check system requirements, and then start installing.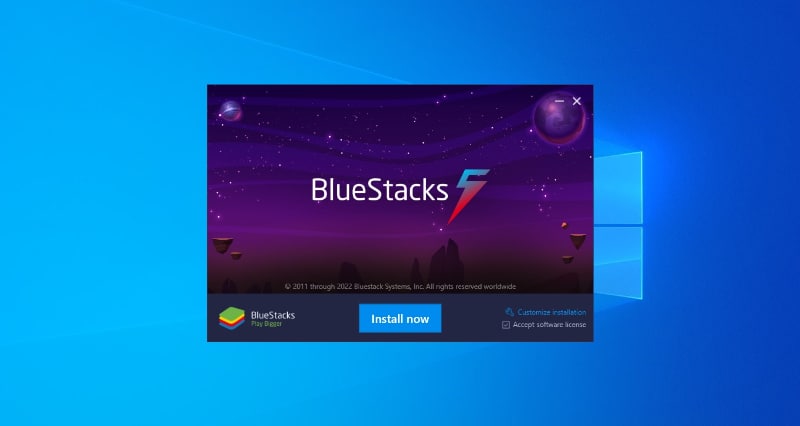 After the installation, Bluestacks will launch automatically, but it may not work well the first time. It is recommended that you restart your PC to allow all files to be properly configured. Alternatively, you can close the program and restart it.
Note that the installation process may take a few minutes, depending on the strength of your internet connection.
Step 3: Launch the emulator & go to Play Store
After restarting your PC or closing the program, you can launch it. You'll notice that the homepage provides several options to get you started, and you can select Play Store.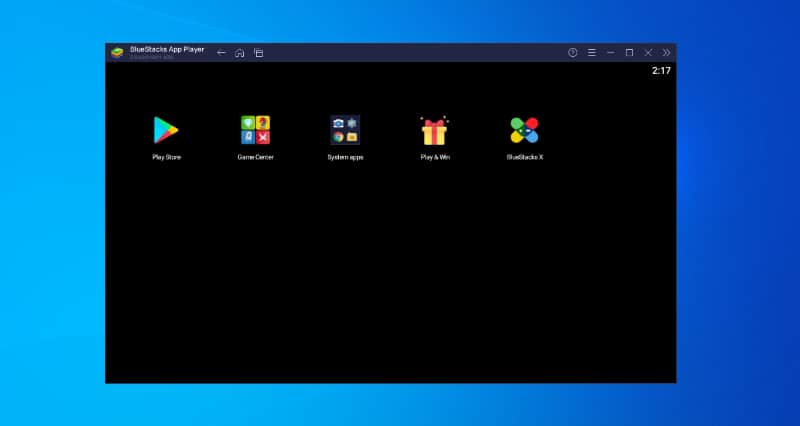 You must then sign in using a Google account to access the store.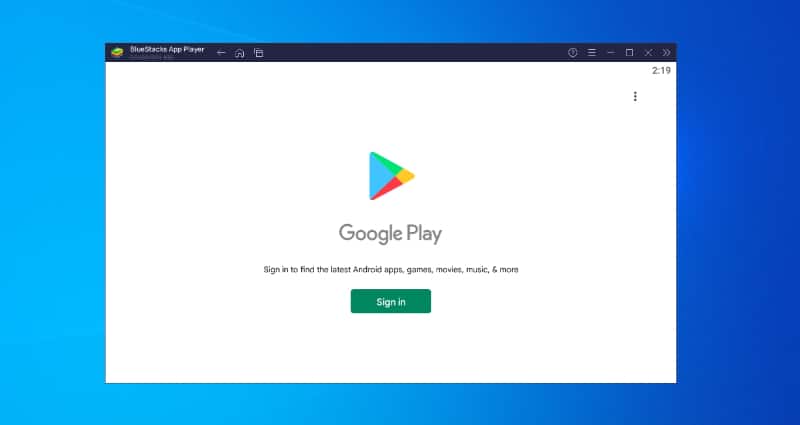 Provide your email address and password.
Step 5: Install Dofu Sports for PC
You can now search for Dofu sports using the search bar provided. The results page will open with the app already selected, and you can click "Install."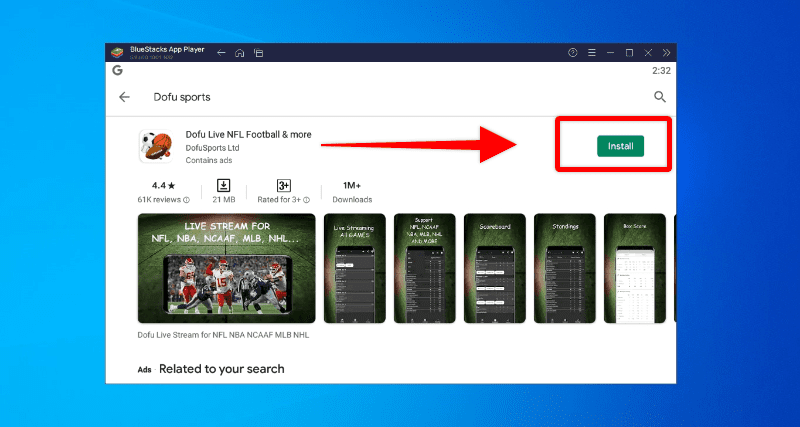 Wait for the installation to complete, and you'll find the app on the homepage. You can now launch and use Dofu Sports.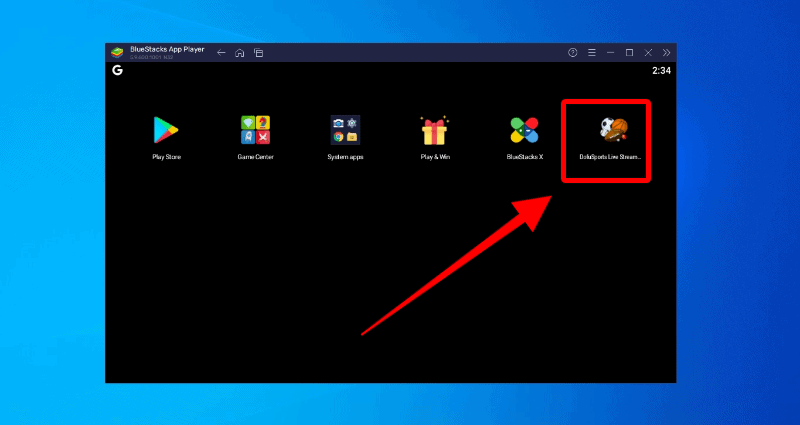 How to Use the Dofu App?
Dofu Sports is quite easy to use, whether you want to watch live stream matches or check some numbers and statistics. When you open the app, you will see three main menu options on the lower side of the app.
Events
This is the default page that opens when you launch the app; it provides live matches and links to ongoing and upcoming matches. The default option is NFL, but you can use the drop-down button on the upper side to switch between NBA, NCAAF, MLB, NHL, and NFL.
When matches are live, you will get links to various broadcasters showing the match.
Scoreboard
The match scoreboard will show you the latest scores from the various sports the app provides. The section also provides scores for past matches; you can toggle between various weeks and seasons.
Standings
The Standings section lets you track how the season progresses by providing the table standings from various divisions and conferences. You can also see how teams performed during the pre-season and previous seasons.
Features of Dofu Sports App
Here are some features of this sports app.
Free App
Dofu Sports is absolutely free for everyone. The app can be installed on any Android device and won't require you to create an account or sign in. However, note that ads support it, so that you may come across them from time to time. If you wish to minimize them, you can change your PC's DNS to an ad-blocking DNS service such as AdGuard.
Easy To Use
Dofu Sports live stream app provides an easy-to-use user interface and intuitive options that allow you to navigate without issues. You can easily switch between sports and access stats from previous seasons.
Live Streaming
The best thing about Dofu Sports app is that it provides links that allow you to watch any match live. They are available for free streaming, whether it be a baseball, college football, hockey, or basketball match. Note that the app doesn't offer a streaming player to avoid being banned from the Google Play Store, but it opens streams in your favorite browser.
High-Quality Streams
Dofu Sports offers high-quality streams that let you watch a match in up to 1080p. The streams provided are well-selected so that you won't be bored by the annoying buffering on some free streaming apps and websites.
Live Updates
The Dofu Sports live stream app lets you stay updated on any team or player's score and ranking. Even if you are not in a position to watch the match, you can always know what's happening.
Dark Mode
Dofu Sports now features a dark mode. This lets you ease your eyes after hours of staring into the light.
Since you are here, we suggest visiting the How to install ShowBox on PC and Mac guide.
Conclusion
Dofu Sports is an excellent streaming app that takes live streaming to the next level. The app combines live updates with multiple streaming links for the same game, which are available for free. However,
Enjoy!