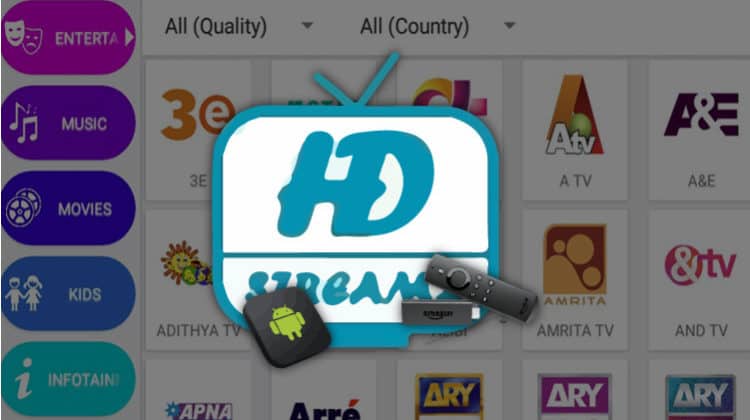 HD Streamz is a relatively new Firestick and Android streaming app that provides users with 1000+ live channels. The streaming app features one of the best interfaces that you can find on third-party apps, and it comes with lots of convenient features including the ability to disable ads.
The interface is very well organized, with the top part featuring a few major tournaments and games that are ongoing. You can also choose between various categories that include Sports, Entertainment, Music, Movies, Kids, Infotainment, and more.
Some of the features that you get from HD Streamz app include:
1000+ live channels
live radio streaming
Internet streaming (enter URL)
Multiple streaming links for major channels
Content from 19 countries
User-friendly app with Material Design UI
Quick user support – reporting links & requesting channels
Since HD Streamz provides TV channels from all over the world, you can use the app to watch live sports, PPV events, WWE, Boxing, and more for free in HD.
Is HD Streamz Legal?
Under the copyright section, HD Streamz APK, clearly states that they do not provide the streams included in the app, and that they are not liable for any copyright issues.
This is quite a concern considering that…
And as part of the war, there's also an ongoing crackdown on illegal streams that forces ISPs to actively block copyright-infringing streams, which means that some links may be blocked in your country.
In view of all these, BestDroidPlayer highly advises that you take the necessary precaution to ensure your privacy and security by using a Good VPN.
A Good VPN helps hide your identity by spoofing your real IP address, and it also encrypts your traffic to make sure that it can't be intercepted. Choosing a server outside your country will also help evade ISP blocking.
How to Install HD Streamz APK on Firestick
Now that you are secure from any legal liabilities and you have evaded ISP blocking, we can go ahead and install HD Streamz APK on Firestick. But since it's not available on the Amazon store, we'll need to do this through sideloading.
To do so, first, ensure that the "apps from unknown sources" option are enabled.
Here's how to enable it:
Enabling apps from unknown sources
While at the device Home screen, go to "Settings" then select "My Fire TV/ Device."

Select "Developer options."

Turn on "Apps from Unknown Sources" as well as "ADB debugging."

After that, we can go ahead and download the app.
The best app for downloading the apk file is "Downloader", an app that is readily available in the store. If you already have it, you can skip to the next section.
If you haven't installed it:
Installing Downloader app
On the main menu, go to the search option and type "Downloader"

Downloader should be the first suggestion. Select it.

Now click Get to install the app on your Firestick

After the installation is complete, open the app.
Install HD Streamz APK on Firestick
Now, we need to download the apk file to install HD Streamz on Firestick.
Firstly, turn your VPN On. This is required to avoid any external interference, such ISP blockages and others while downloading the APK file. We recommend the use of a good VPN like Surfshark.
In the URL field of the downloader, enter the URL: https://hdstreamz.app/get

HD Streamz apk will start downloading.

After the download is complete, click "Install"

When the installation completes, click "Done."

Downloader will ask if you want to delete the apk. Select "Delete" to save some space.

When asked to confirm, select "Delete" once more.

HD Streamz should have been added to your app list. It can now be found under "See All." You can also choose to move the app higher.

How to Install HD Streamz APK on Android TV
If you stream using your Android box or Android Smart TV, it's also very easy to install the HD Streamz app. Just like with Firestick, the first thing you need to do is ensure that your Android box is permitted to install third-party apps. To do that, navigate to Settings> Privacy> Unknown Sources and checkmark "Allow Unknown Sources."
From there, you now need to download the HD Streamz apk to install. The best way to do that is by using the Chrome browser. If you haven't installed it, it's available on the Google Play Store.
Open Google Chrome
Type or paste the URL https://hdstreamz.app/get on the address bar
The HD Streamz apk will start downloading immediately
Just click on the file to install
Using HD Streamz App
Before you start the app…
Remember that HD Streamz is a third-party app that provides unofficial streams. Before you stream anything, make sure that you connect to a Surfshark server first. This will help you stop your ISP and other parties from tracking your activities, hence avoiding any potential DMCA notices. You will also be able to circumvent any ISP-imposed blocking on streams.
If you haven't created an account yet, here's our exclusive 82% discount.
After getting an account, you can install the Surfshark app by following these simple steps:
On the Firestick search box, type Surfshark.
The app will appear as the first suggestion. Click on it
You will be given the "Get" option. Hit it.
The VPN will now start downloading
Launch it and sign in with your credentials.
Streams browsing
From there, you just need to connect your VPN and launch HD Streamz. You can then select a category to start watching live TV.


HD Streamz makes it easy to filter the categories further using countries, and you can also add favorite channels.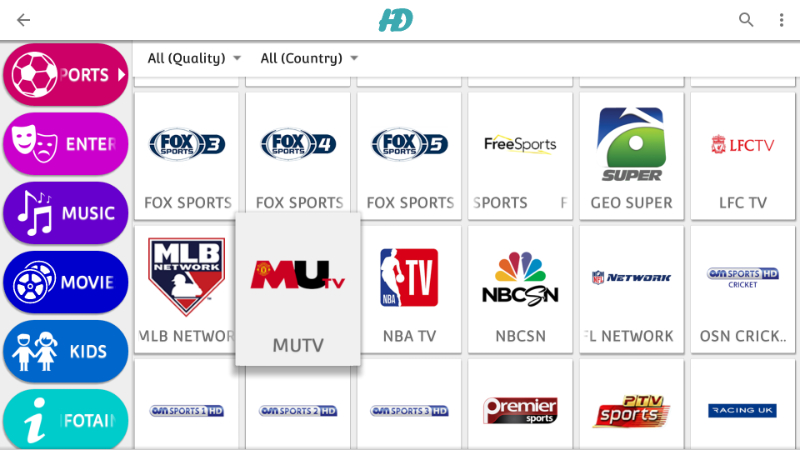 You can use a player of your choice.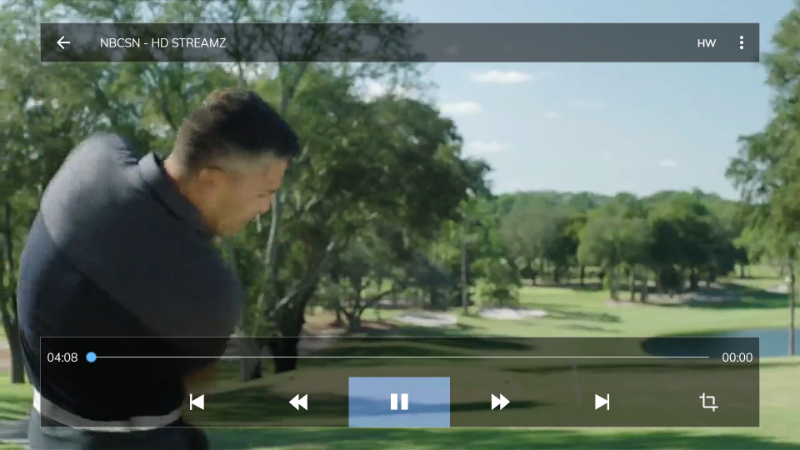 Removing HD Streamz Ads
HD Streamz's mode of operation is through serving ads, and so you will encounter a few ads as you use the app. However, there's an option to remove these ads, and you can do so by accepting to "share idle resources", an option that pops up when using HD Streamz on Firestick.
What this option means is that when you are not using your device, it can be used as a proxy by another user. This is made possible through HD Streamz's affiliation with Luminati, a company that offers proxy services.
When you accept to join the network, Luminati will be able to tunnel another user's traffic through your device, and therefore giving them your IP address. The company states that apart from the IP, "none of your personal information is accessed."
Is this Safe?
Luminati had some issues back in 2015 when it was associated with authorizing malicious users to access their network and carry out illegal activities using another person's IP address. However, they have since claimed to have cleaned up their house, and so they only approve reputable companies.
If you'd like to remove ads but you are not comfortable, you can enable this option only when you want to use HD Streamz for some time then disable it afterward. However, be keen to connect to an Surfshark server to ensure that you do not provide your real IP address!
Note that HD Streamz may not be fully compatible with the Firestick remote, and so you may need to install Mouse Toggle.
Check out other streaming guides for Firestick
Wrap up
HD Streamz app is quickly becoming popular thanks to its fantastic interface and great functionalities. The app can let users stream channels from around the world in SD and HD, and you don't even have to deal with ads.
We hope this article on how to install HD Streamz APK will expand the streaming library of your Firestick or Android device. Enjoy your streaming!