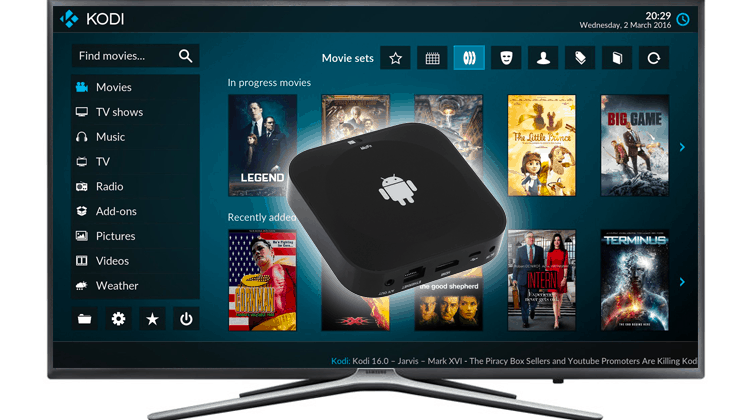 How to setup a Kodi Android TV Box? In this article you will find the steps to setup a Kodi Android TV Box and How to install Kodi Addons.
You've probably heard of Kodi by this point (which is why you are here) but you might not really understand how useful it is and how easy it is to configure it. Well, I'm here to help so just follow along; by the end, you will have everything you need to know to configure a TV Box that does everything you need it to!
There have been significant crackdowns over the last few months on illegal streaming. This is due to the ISPs blocking users access to streaming sites, causing Kodi errors and streams not opening or constantly pausing.
Luckily, if you use a good VPN, your traffic will be anonymous and encrypted so your ISP won't be able to see what you are doing online.
My VPN of trust is Surfshark. It offers the fastest connections and also a strict no logs policy, meaning your traffic history will not be stored and cannot be used against you.
Furthermore, Surfshark offers:
⚡ Superb Speeds: Guarantees a smooth live streaming experience.
🌍 Huge Server Network: You can connect to a nearby server for a fast and stable connection.
😲 UNLIMITED Devices: Connect dozens of devices at the same time!
🔑Unblock Anything: Safe access to censored apps, websites and torrent sites.
😎 Best in Privacy: The VPN doesn't keep any activity logs, and so your activities are only known to you.
🔐 Top-notch Security: This VPN uses AES 256-bit encryption and provides multiple protocols alongside other security features such as a kill switch, DNS & IPv6 protection and WireGuard.
💳 30 Days RISK FREE Money-Back Guarantee: In case you do not like the service, you can get every penny back if you cancel within 30 days!
Save 82% of Surfshark VPN - Click here to get the deal now.
But, before entering on the subject of How to setup a kodi android tv box, let's talk a little about Kodi and Android TV Boxes.
What is Kodi & Android Box?
While I'm assuming you know what these are already, just in case let's give you a quick review. Android boxes run Google's Android Operating system and have access to the Google Play Store. They are available from quite a few different vendors and locations – but I'd recommend you take a look at Best Android TV Boxes as they have some good units available with Kodi preinstalled.
Kodi is an entertainment center – it allows you to connect to your local network and stream content that you have already saved and stored, but even better it allows you (through the use of addons) to stream TV and Movies directly to your Television bypassing Cable and Satellite companies and their hefty bills!
If you don't know how to use Kodi, here's the most complete Kodi guide to getting you started.
Setup a kodi android tv box
Now you know what is Kodi and what is an Android TV Box, let's start from the beginning by connecting an Android TV Box to a TV set and then install kodi addons.
How to Connect an Android Box to the TV?
Following these steps, this is really easy:
Android boxes come with an HDMI cable and really all you need to do is plug that cable directly into your TV. If your TV does not support HDMI you can easily purchase an HDMI to AV converter online or at your local electronics store.
Plug the supplied power adapter into your Android TV box and turn it on using the supplied remote.
Follow the simple onscreen instructions to connect to your home WiFi connection or use a hardwired Ethernet connection for even better streaming and viewing experience. If you don't get any wifi screen, just access settings -> wifi to connect with your home wifi.
Click on the Kodi option on your screen and follow the steps below to start enjoying free content like movies, tv shows, live tv channels, and much, much more!
Addons and Kodi
Now, in this article about How to setup a kodi android tv box, let's talk the most important thing – the addons. Installing addons can seem daunting to anyone the first time it's done. However, it is really a simple matter of conducting a few steps (which will become extremely familiar over time) in sequence.
A really good video guide that is available is on the link below. Start with that first as it will show you what I'm going to be doing.
The basic instructions for installing an addon are as follows:
1- Configure for Unkown Sources
As these addons are not on the play store, you need to ensure that you allow your Android box the ability to install them.
Open Kodi and navigate to the system menu – this is accessible via the icon shaped like a gear on the top left corner.
Go to system setting > addons and click the option entitled unknown sources so that it is selected. Once you have installed all of the addons you want to, you can always come back and uncheck this box.
2- Protect yourself Online
Before we get into a lot of detail about some suggested addons one, that is almost an absolute must, is a VPN. VPN's act like a tunnel between your device and the destination server. This tunnel helps to keep you anonymous; this ensures that your ISP does not throttle your bandwidth based on ever-changing government regulations.
However, while the anonymity is a huge plus, another factor to consider when using a VPN is its ability to unlock geo-blocked content. This sounds complicated, but let me make it easier … Netflix has a specific catalog of shows that are available in the USA, a different catalog in the UK, and yet another catalog in Canada. Each country has specific criteria around what shows can and cannot be shown in their region; these decisions are often completely arbitrary. However, if you have the ability to unlock this through the use of a VPN, you will be able to access even more content than you would have had access to previously!
We recommend Surfshark to all of our readers – not only is it extremely easy to setup and configure; it won't slow down your streaming experience at all. Even better –we've arranged an EXCLUSIVE deal with Surfshark to give our readers 82% discount. Just click the link below!
3- Install Kodi Repositories
Kodi addons are stored in repositories on different servers around the Internet. Once you have found the repository with the files, you'll need to follow these instructions to install them onto your system.
First of all, turn a Good VPN like Surfshark On!. This is required to avoid your ISP to block the repository and or Addons.
Go back to the system menu (gear menu on the top left) and navigate to the file manager. Select add source by double-clicking on the option.
On this screen click on the pop-up message that reads <none> and type in the address of the repository (we'll give you that later). Give this source a name that makes sense and then save it.
4- Install Kodi Addons
Go back to Kodi's main screen and select the addons section – this is an icon that looks like an open box.
Select install from zip file; then navigate to the repository you are interested in and double-click on it. Wait for the completion message.
Go back one step and select install from repository and then within the repository look for the addon you're interested in. Double click on this add-on to install it and wait for the completion message.
Some addons will require additional configuration (like usernames and passwords) – you can do that from the configuration screen. You can find all of the video addons in the Video Addons section of your Kodi home screen.
Some of the best Addons
There are lots of different addons available (with a host of different repositories). Some are better for Movies while others are better for TV and yet others are better suited for Sports. The best thing about Kodi is that you are not restricted; you can actually install as many or as few addons as you need to, to get the programming you are most interested in.
We've created a list of some of the best Kodi addons that you should start with.
It's important that you refer to this list frequently as while the positive of Kodi is the multitude of addons available, the downside is that sometimes they stop working! We will keep the list as up to date as possible to ensure that you always have access to the latest and greatest.
My addon is not Streaming properly
Now, on this How to setup a kodi android tv box article, let's talk about some difficulties you may face, and how to solve them.
In some cases, addons that are working perfectly simply do not work on your device and you get error messages. Frequently this issue is because the contents are geo-locked (if you recall I explained what this is earlier) and you are attempting to watch a program or access content that is not accessible in your region.
To rectify this issue, you need to have a VPN in place. I explained what they are earlier and at a very high level how they work, but most problems of this nature can be resolved by installing a VPN on your Kodi box. We'll always recommend Surfshark especially with the discount we've managed to obtain, but even if you do not go with them, you really should ensure that you have a VPN on your Kodi box.
Surfshark just may be the fastest VPN provider out there, and you need as much speed as possible to stream. There are free VPNs, but they use slow servers and then the streams would be constantly buffering. With Surfshark you will get the best VPN experience available for the most competitive price.
Are VPNs legal?
Yes, they are totally legal, you have the right to stay anonymous.
Get the most of Kodi with Surfshark:
Unblock Geo-targeting to access any content regardless of where you are located
Bypass any censorship put in place by websites or streaming providers
Stay truly anonymous when streaming content to your Kodi device
>> Click here to know how to set up a VPN for your Kodi Box
We've arranged an EXCLUSIVE deal with Surfshark to give our readers 82% discount. Just click on the button bellow.
Access All Kodi Add-ons Now!
We hope this article on How to setup a kodi android tv box, have been useful. If so, please rate it and share with your friends.