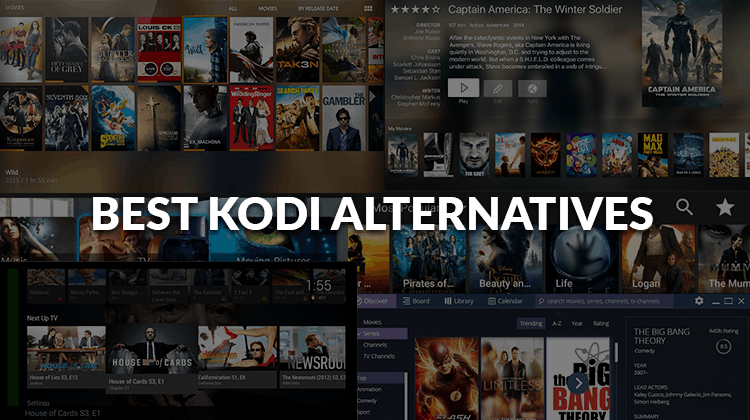 As the cracking down of illegal streaming goes on, Kodi users are becoming more and more concerned and looking for Kodi alternatives as in 2020.
More and more add-ons for the popular streaming service Kodi are being shut down as the result of a few serious court cases against Kodi. As the cracking down of illegal streaming goes on, Kodi users are becoming more and more concerned and looking for Kodi Alternatives.
It's important to remember that Kodi media center software is not illegal at all; so, it can be used. The main problem is in the way you use it, and while the software itself is not illegal, most of the copyright holders are concerned about the sale of so-called "fully-loaded" Kodi boxes, which comes with third-party Kodi addons that allow its users to illegally access Premium Channels, Live Sports, movies, TV Series, etc.
The complainers
Some of the most important UK copyright holders concerned about Kodi are Premier League and Sky TV. They are working together to block access to the sources that transmit Live Sports Events.
There have been significant crackdowns over the last few months on illegal streaming. This is due to the ISPs blocking users access to streaming sites, causing Kodi errors and streams not opening or constantly pausing.
Luckily, if you use a good VPN, your traffic will be anonymous and encrypted so your ISP won't be able to see what you are doing online.
My VPN of trust is Surfshark. It offers the fastest connections and also a strict no logs policy, meaning your traffic history will not be stored and cannot be used against you.
Furthermore, Surfshark offers:
⚡ Superb Speeds: Guarantees a smooth live streaming experience.
🌍 Huge Server Network: You can connect to a nearby server for a fast and stable connection.
😲 UNLIMITED Devices: Connect dozens of devices at the same time!
🔑Unblock Anything: Safe access to censored apps, websites and torrent sites.
😎 Best in Privacy: The VPN doesn't keep any activity logs, and so your activities are only known to you.
🔐 Top-notch Security: This VPN uses AES 256-bit encryption and provides multiple protocols alongside other security features such as a kill switch, DNS & IPv6 protection and WireGuard.
💳 30 Days RISK FREE Money-Back Guarantee: In case you do not like the service, you can get every penny back if you cancel within 30 days!
Save 82% of Surfshark VPN - Click here to get the deal now.
Also, the American Company Dish Network (US TV Service Provider) it's in a legal fight to shut down some Kodi addons, and they have been quite successful with TVAddons.ag library closing doors. More information about the TVAddons exit, addons affected, and list of addons still working.
With all of this going on, you may be thinking to look for some Kodi Alternatives.
5 Kodi Alternatives
There are some good alternatives to Kodi and you can even install them in your favorite device: PC, Fire Stick, Android TV Box, etc.
We suggest the following alternatives to Kodi:
1. Stremio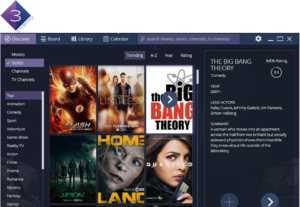 Stremio is my 1st choice to stream movies & series.
Through this service, users can enjoy movies, TV shows, live TV, channels, series, etc. from many different platforms, all from the single screen. Also, the service makes sure that all the videos in all formats are of high quality
The service also promises to provide the excellent watching experience with additional features such as the casting support or subtitle support.
It allows you to create your own personal library where you can put all of your favorite shows or movies. Of course, the service is available for most of your devices and you can sync the libraries on all of the devices. It features the Linvo Database that makes sure that the data is properly arranged on each device.
The board option that this service provides will notify you whenever there are new episodes of your favorite show or videos of your interest available. The Stremio will also help you discover new shows you might like by the recommendation features.
You have to have the account to use the Stremio, but the creation of the account is quite easy. After you have created an account, you can use the app. The home screen is basically a board menu with the recommended content and in the discovery menu, you can choose series, shows, and movies separately.
Overall, it's a light app that is packed with awesome features for your viewing pleasure.
Want to learn more about Stremio?
How to install and setup Stremio on Firestick / Fire TV
How to install Stremio Addons
Best Stremio Addons
2. Plex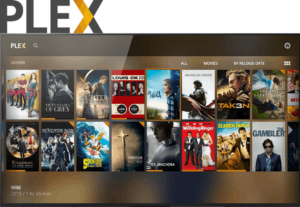 Plex is basically the xstream alternative to Kodi which is available both for free and as a paid version. The difference is, as you probably can guess, in some extra features that the paid package offers. So if you want these extra features, the paid version starts at 4.99 dollars per month.
First of all, this nifty little app is compatible with Windows, Mac OS X, iOS, and Android, but you have the versions for Linux, Windows phone, Roku, Android TV, Xbox, and PlayStation as well.
Plex has many features that are similar to those on the Kodi and it's the best solution for transmission of the locally stored digital media. It has a client-server architecture that enables it to stream to a few devices at the same time.
Long story short, this is probably the best software of this type for Android or other devices because it features a home software application.
The Plex allows you to view and manage your media through a multidimensional interface. It has a bunch of channels that are similar to the add-ons on Kodi and these channels allow you to stream different content.
Additionally, it can run even on the low-powered computers. The software handles all the transcoding media for transmission to several devices. This is the most popular on Kodi Alternatives.
Want to learn more about Plex?
How to Install Plex
Best Plex Channels
Best VPN for Plex
3. Emby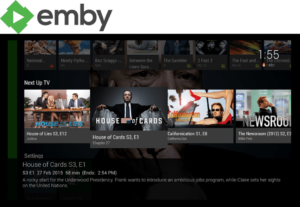 Back in the day, Emby was used as a simple Media browser and it had pretty much-limited features. But the newest version of this software has a lot of features and you can enjoy Cloud Sync or Folder Sync as well as the many more features that will most certainly enhance your viewing pleasure.
Emby also features parental control which can detect DLNA devices. You can take your media anywhere you go because the Emby features a lot of exclusive applications.
It's available in 3 classifications. The first classification is Emby Server, Mobile Apps, and TV Apps. The second classification is the Emby servers available for Mac, Windows, and Linux.
The last classification is of the TV apps that offer support for Android TV, Samsung Smart TV, Chromecast, and many others. This nifty system also has mobile apps for Android, iOS, and Windows.
Basically, Emby is a great alternative to Kodi Alternatives that you can install and enjoy in a heartbeat.
Check the install Guide for Emby!
4. Infuse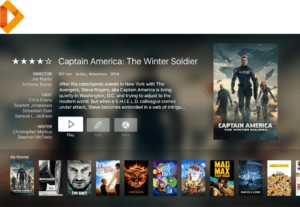 There is not much to say about Infuse. It is an overall great app for video streaming. It allows you to watch movies across several devices and it is a multiplatform and multifunctional media player and media server.
The app supports both media programs and subtitles and you won't need to convert your videos in order to play them on different devices.
The first thing you will notice about this app is how well it is designed. The user interface is perfectly balanced and pleasant to look at.
From a functionality standpoint, this app offers many features that the competitors don't. It can load almost every format and it's excellent if you have a bunch of movies scattered all over your hard drive in a bunch of different formats. This app will find and help you organize all of them. The downside is to be available for macOS and iOS only.
You can download Infuse App from the Apps Store
5. MediaPortal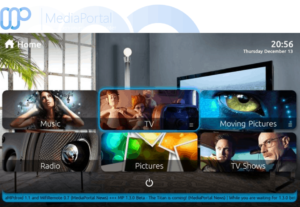 This one is most definitely one of the Kodi Alternatives that is worth trying. First of all, it allows you to record live TV and you can play any media files from your hard drive, DVDs or Blu-Rays.
You can listen to all of your music, radio, and stream your media on Home Theatre or PC inside of the home network. These features in combination with the awesome user-friendly interface of MediaPortal make this service an awesome alternative to Kodi.
Also, if you install proper add-ons, you can stream content from the popular services that you like.
MediaPortal is actually based on Kodi's design which makes it an excellent alternative. However, it's designed only for Windows. If you happen to use Windows and you need an alternative for Kodi, this is the app to go with.
You can download MediaPortal, here!
Conclusion
Kodi is most definitely one of the best services for video streaming, but with all the add-ons being shut down and all the legal issues, it might be the right time to abandon the sinking ship.
As you can see, there are some proper Kodi Alternatives that all have great features such as the multiple device support, many different add-ons, multi-format compatibility, etc.
Depending on your needs, there is always a proper alternative focused on the specific area you need it to be focused on.
Don't forget to use a VPN to keep you Anonymous and Unblock all streams
>> Click here to know how to set up a VPN for your Android Box or Fire TV
Save 82% of Surfshark, now!
Feel free to leave us a comment with your opinion/experience with these Kodi Alternatives and suggest others.
If you liked our article, don't forget to use the social sharing buttons ;)