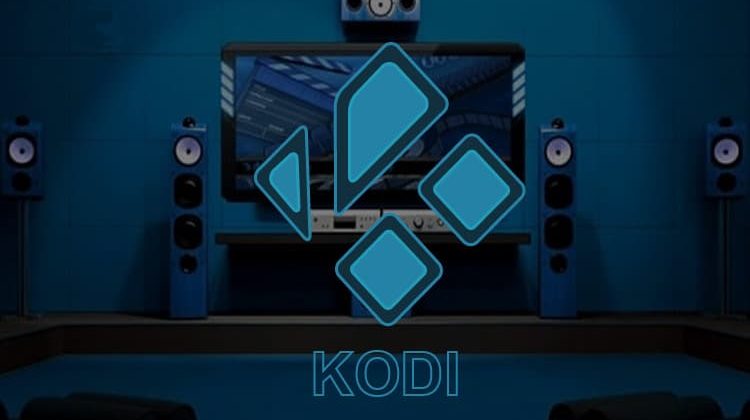 There are many addons to watch live TV for free; the problem is to gather the best Kodi builds for Live TV streaming, but we made the work and here's the list for you to enjoy.
This guide will show you the best Kodi builds for  Live TV streaming in 2023. The listed builds can be installed on all devices that support Kodi.
Kodi has been the go-to software for cord-cutters for quite some time now. The app provides one of the easiest ways of streaming content at home, and it can be installed on various devices, including the Amazon Firestick, Fire TV Cube, Android box, NVidia Shield, Windows, Mac OS, etc.
Once you have Kodi, you can then install Live TV Kodi addons to watch free live TV, sports, and other programs from all over the world. Even better, you can install one of the best Live TV Kodi builds and enjoy many Live TV addons as well other content like movies, TV shows, documentaries, sports replays, etc.
To help you replace cable TV with ease, we have tested various builds with more focus on each build's live TV section. You can also check out our guide for the best builds for Movies and TV shows.
What are Kodi Builds?
In case you are not familiar with Kodi builds, they are pre-configured files that can completely makeover your Kodi program, giving it a brand new theme, layout, artwork, and more.
Apart from that, builds also come pre-installed with many Kodi addons that have been selected by the developers. These addons are grouped into sections, and some of the most popular categories are live TV, movies, TV shows, sports, music, and documentaries.
Be Careful: Stream Safely!
While Kodi lets you enjoy lots of free content, it's also very easy to land in trouble for the same. This is because most of the third-party addons that come pre-installed in Kodi builds usually stream copyrighted content.
👉 To continue using Kodi safely, we advise all our readers to always use a reliable VPN for streaming. Since the VPN will encrypt your traffic, your ISP will not make sense of the data you are transmitting, as they will only see some garbled mess.
The VPN We Recommend
The VPN we strongly recommend is Surfshark as is one of the few VPNs that keep a zero logs policy. It does this alongside offering super-fast servers all over the world for buffer-free streaming, and you do not suffer from geo-restrictions. Some important features are:
⚡ Superb Speeds: Guarantees a smooth live streaming experience.
🌍 Huge Server Network: You can connect to a nearby server for a fast and stable connection.
😲 UNLIMITED Devices: Connect dozens of devices at the same time!
🔑Unblock Anything: Safe access to censored apps, websites and torrent sites.
😎 Best in Privacy: The VPN doesn't keep any activity logs, and so your activities are only known to you.
🔐 Top-notch Security: This VPN uses AES 256-bit encryption and provides multiple protocols alongside other security features such as a kill switch, DNS & IPv6 protection and WireGuard.
💳 30 Days RISK FREE Money-Back Guarantee: In case you do not like the service, you can get every penny back if you cancel within 30 days!
It also gives a 100% money-back guarantee if you wish to cancel the service. But, the best is that
you can cover up to 10 streaming devices
, with one single subscription.
Surfshark is offering our readers an exclusive and limited 82% discount. Use the link below to take advantage.
Best Kodi Builds for Live TV in 2023
We have carefully tested the builds below to ensure that they offer quality service and are light enough to support most devices. However, since the Kodi world is almost unpredictable, you can let us know in the comment section if you find a build that is not working.
✋ Before you install any build, BestDroidPlayer highly recommends that you reset Kodi to default settings. Otherwise, choose Fresh Install during installation.
1. Doomzday USA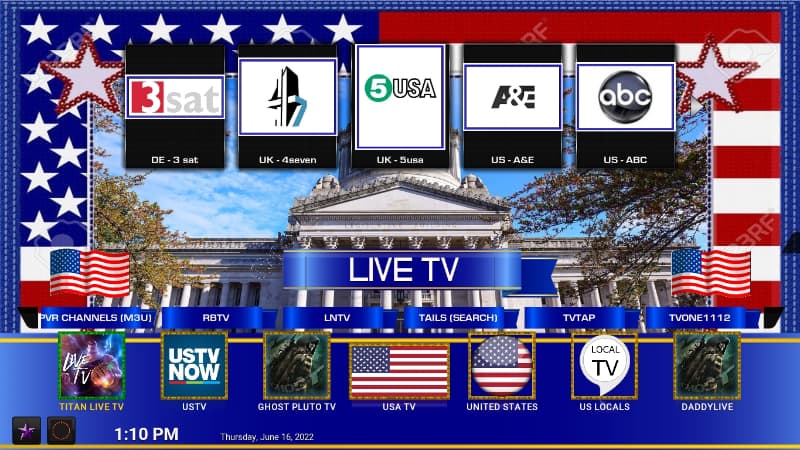 The Doomzday USA is an American-themed Kodi build from the Doomzday repository, and it's easily one of the best Kodi builds at the moment. The build is well designed with rotating graphics, ribbon menu items, and animations. The Doomzday USA build displays one category at a time, with sub-categories below and titles/channels above. That makes it possible for the addon to include the many widgets it provides while retaining ease of use.
Doomzday USA Build's main categories are Live TV, 24/7 Streams, 1-Click Movies, 1-Click TV, Sports Hub, Kids Corner, Music, Doomzaday, Addons, and Weather. The Live TV and 24/7 Streams sections let you access any popular TV channel. Some of the addons you'll find in these sections are RBTV, LNTV, Tails, TVTap, TVOne, and USTV Go. The several scrappers include USTV Now, Titan Live TV, USTV, US Locals, and Daddy Live. You won't miss whatever channel you are looking for.
Build Repo: Doomzday 19 Wizard
Repo URL: https://doomzdayteam.github.io/doomzday/
Supported Versions: Kodi 18 and 19
Visit the Doomzday Kodi build install guide!
2. Smokin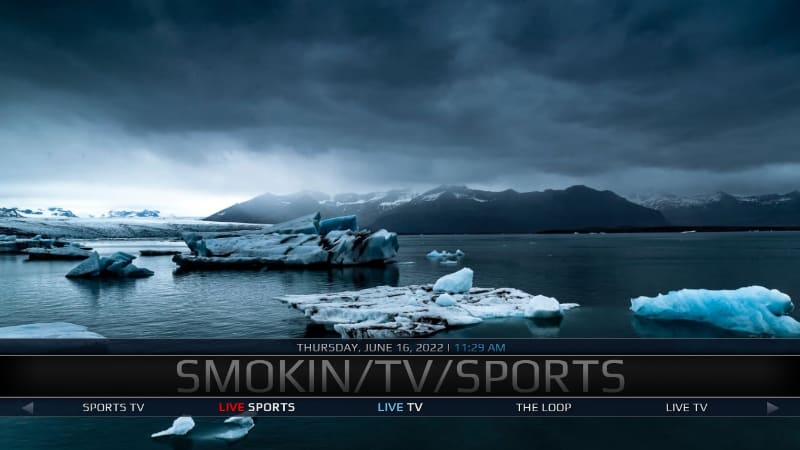 Smokin is another of the best builds for Live TV. The build comes in a small size, making it suitable even for devices with limited storage, such as the Amazon Firestick and other streaming devices. The Smokin Kodi build comes with a dark theme and several HD background images that make it quite attractive. It also has lots of widgets that fill the screen with content when selecting a category.
Smokin Kodi build categories include TV/Sports, Movies, TV Shows, and Music. The TV and Sports section provides lots of Live TV Kodi addons such as LNTV (LiveNet), TapTV, RBTv, USTV, UKTVNow, Samsung TV, Pluto TV, and Free TV. These can guarantee you thousands of live TV channels, and you can always switch between addons if you find that one is unreliable.
Repo Source URL: https://doomzdayteam.github.io/doomzday/
Supported Versions: Kodi 19
Visit the Smokin Kodi Build Install Guide!
3. Equinox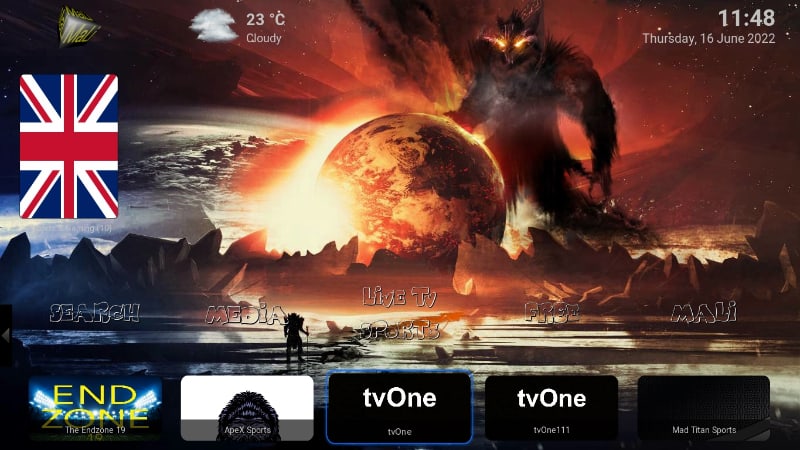 If you like fancy, then Equinox may be the one for you. The Kodi build is known for its visually-rich graphics and extravagant font that brings a lively experience to Kodi. But at the same time, the build takes a simplistic approach in presenting content, so the screen is not congested. However, it is still large in size as it downloads a lot of plugins after installation, so you should mostly install it on devices that have big storage space.
Equinox build has several categories: Media, Live TV & Sports, Free, 1-Click, and Library. When you select the Live TV & Sports section, you'll see lots of addons that you can use to stream live channels. These include Ghost IPTV, The Crew IPTV, Catch Up TV & More, Pluto TV, Plex Channels, Fetch! TV, tvOne, and tvOne111. Note that the build takes quite some time to download everything after the installation.
Build Repo: Diggz Wizard
Repo URL: http://grumpeh.aion.feralhosting.com/repo/
Supported Versions: Kodi 19
Visit the Equinox Kodi Build Install Guide!
4. Aspire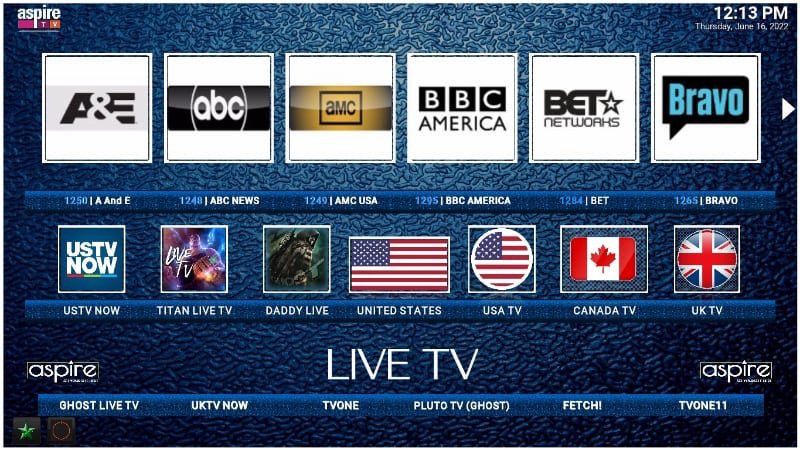 Aspire is a fantastic build from the Doomzday Repo, and it's one of the best Kodi builds for Live TV. The build doesn't come with any fancy graphics but rather uses a simple bluish theme. However, it matches pretty much any other build regarding the content on offer. Aspire's screen is divided into various horizontal sections that show the main menu, sub-categories, addons, and content. This makes it easy to access what you are looking for.
Aspire comes with several sections: 1-Click TV, Debrid & 4K, All Stars, Sports1, Sports 2, Live TV, Family, Music, and Addons. The Live TV section is quite commendable as it has lots of addons that include Ghost Live TV, UKTVNow, TVOne, TVOne11, TVOne111, Fetch!, World Wide TV, and Pluto TV. There are also several scrappers you can use: USTV Now, Titan TV Live, USA TV, Daddy Live, Canada TV, and UK TV. Once you select the category, you'll get the most popular channels on the upper side of the screen, and you can scroll through and start streaming without even opening the addons.
Build Repo: Doomzday 19 Wizard
Repo URL: https://doomzdayteam.github.io/doomzday/
Supported Versions: Kodi 18 and 19
Aspire Kodi Build Install Guide is here!
5. Fallout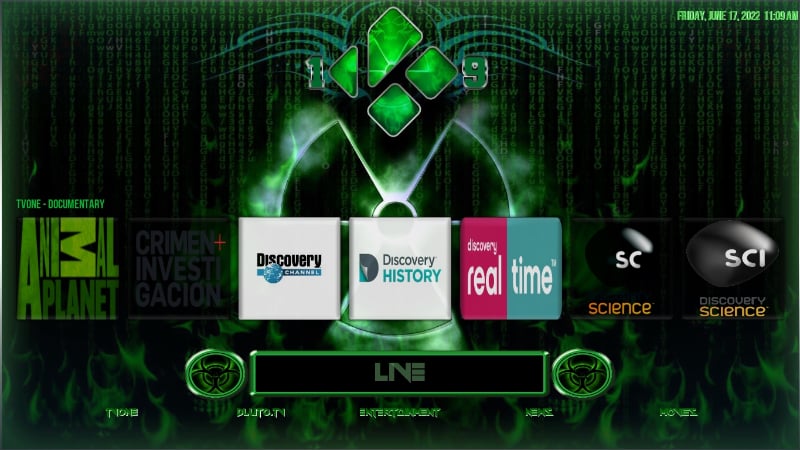 Fallout is another of the best live TV Kodi builds, and it's created by popular developer cMan, who is also behind addons such as Asgard and Black Lightning. The build uses a green hazard theme and compresses the menu items so that you can only see one at a time. This gives the build a simplistic appearance, although you can still access popular titles and channels above every category.
Fallout's main categories are X-Plore, KodiVerse, Sports, Add-ons, Live, and Favorites. The Live TV section provides both addons and live TV categories. You'll find TVOne, Pluto.tv, Entertainment, News, Movies, Sports, Kids, Fluxus IPTV, and USA Channels. The build also comes with all-in-one addons that you can use to access Live TV, such as Asgard.
Build Repo: cMaN Wizard Repository
Repo Source: http://cmanbuilds.com/repo
Supported Versions: Kodi 19
6. Simplex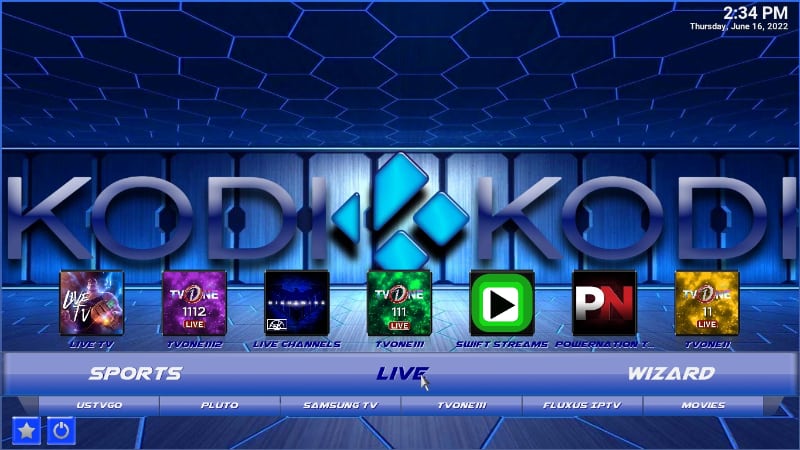 Simplex is a build from the cMan Wizard that features a well-designed bluish theme, and it's another of the best Kodi builds for Live TV. The build is a bit simple, with everything arranged on the lower side of the screen. The categories run horizontally, with addons above them and sub-categories below them to make navigation easy.
Simplex has several categories: Movies, TV Shows, X-Plore, Live, Kids, and Sports. The Live section is where you'll find live TV channels. These are provided by various addons such as USTVGo, Pluto TV, TVOne, TVOne 111, TVOne1112, Fluxus IPTV, Catch-Up TV, and Samsung TV. There are also several Live TV categories that source links from various addons included in other sections, such as Asgard.
Build Repo: Cman Repo
Repo URL: http://cmanbuilds.com/repo
Supported Versions: Kodi 18 & Kodi 19
Visit the Install Guide for Simplex Kodi Build!
7. Ghostbusters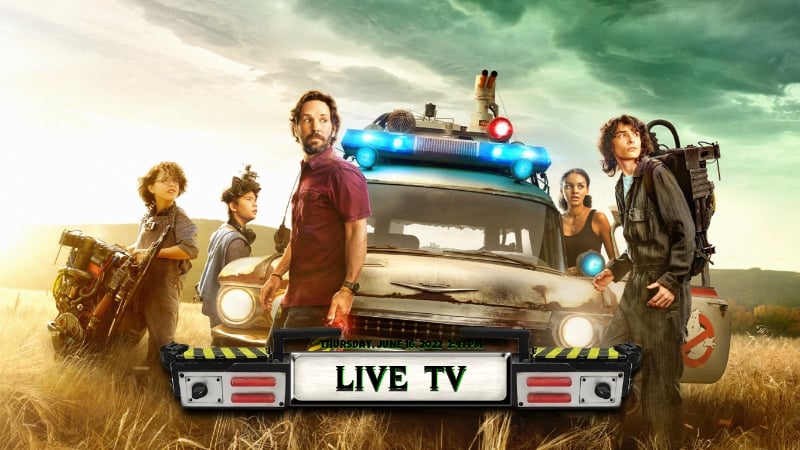 Ghostbusters is a Kodi build from the cMan repo themed after the 2021 movie, Ghostbusters: Afterlife. The build features colorful rotating graphics, but it is designed to be as simple as it can be. Ghostbusters doesn't have widgets to show titles or channels, and neither does it have a running menu like in most themes. Instead, it displays one menu item, and from there, you can scroll to the rest.
Ghostbusters build categories are Movies, Kids, TV, Free, KodiVerse, Sports, Add-ons, Live TV, and Favorites. Under Live TV, you can access thousands of channels through addons such as TVOne, TVOne111, TVOne1112, Fluxus IPTV, Swift Streams, and Pluto TV. There are also various Live TV categories such as Entertainment, News, Movies, Docs, Sports, and more. If you are looking for a no-frills live TV Kodi build, this might be the one.
Build Repo: Cman Repo
Repo URL: http://cmanbuilds.com/repo
Supported Versions: Kodi 19
Wrap up
Watching Live TV on Kodi is quite easy, and the builds above provide you with limitless options for watching your favorite programs. You can use the installation guides or the Repo URL, to install a build of your choice or even test all of them and choose a favorite. However,
Avoid landing in any form of trouble for copyright infringement; use a reliable VPN like Surfshark. This will ensure that you stream privately and securely and that your ISP won't block or even throttle your connection.
Enjoy your streaming!