This article will guide you on how to install Weyd App Firestick and Android TV using its APK file. You can also install the app on Nvidia Shield, TiVo Stream 4K, Chromecast with GoogleTV, and any other Android device.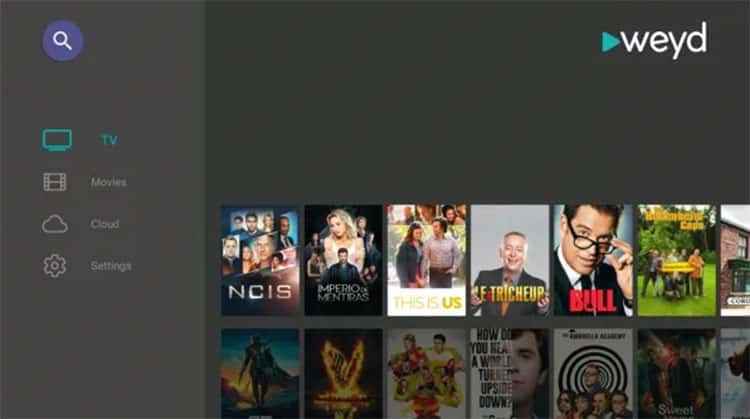 Weyd is a superb streaming app that lets you watch Movies and TV Shows. The app is more like Rokkr and Syncler in that it requires external scrappers to look for links. However, it is much better than the two because it provides a straightforward and clean interface, and it doesn't come with ads.
Some of the best features of the Weyd App are:
Simple UI: Weyd focuses on simplicity, and everything can be accessed with just a few clicks.
Trakt Integration: Weyd integrates Trakt.tv to ensure that you can keep track of everything you are watching. The service is integrated at the base level to make loading super-fast.
Excellent Link Scraping: Weyd app comes with a superb link scraping engine that provides tens of HD links.
Real-Debrid Integration: Weyd scrappers work in conjunction with Real-Debrid to provide high-quality links in up to 4K.
Note that Weyd App comes with a small subscription fee. A three-month plan costs $5, a six-month plan costs $9, and a yearly plan costs $15. A lifetime subscription starts at $75, and all plans support a minimum of 5 devices.
Good news, though, Weyd app offers a free 7-day subscription, so feel free to check out the app. This guide will show you how to install Weyd App on Firestick & Android TV.
Stream Anonymously and Securely!
Despite being subscription-based, Weyd provides content that it doesn't host. The streams provided are usually from Real-Debrid, which in turn doesn't host the content; the service simply provides you with high-speed download links from other popular hosting services.
⚠ All these hosting complications mean that streaming on Weyd App is in the grey area, and it can easily land you in trouble with Johny Law. If you stream pirated content, you can quickly end up with a DMCA notice or a cease and desist letter.
👉 To avoid this, you should ensure that you have a reliable VPN. The VPN will encrypt your traffic and make it anonymous by changing your IP address. This way, you won't have to look over your shoulder when streaming.
✋ Simply having a VPN is not enough as you need to ensure that it provides the required levels of privacy, security, and speed.
The VPN We Recommend
The VPN we recommend at BestDroidPlayer is Surfshark, and here's why:
⚡ Superb Speeds: Guarantees a smooth live streaming experience.
🌍 Huge Server Network: You can connect to a nearby server for a fast and stable connection.
😲 UNLIMITED Devices: Connect dozens of devices at the same time!
🔑Unblock Anything: Safe access to censored apps, websites and torrent sites.
😎 Best in Privacy: The VPN doesn't keep any activity logs, and so your activities are only known to you.
🔐 Top-notch Security: This VPN uses AES 256-bit encryption and provides multiple protocols alongside other security features such as a kill switch, DNS & IPv6 protection and WireGuard.
💳 30 Days RISK FREE Money-Back Guarantee: In case you do not like the service, you can get every penny back if you cancel within 30 days!
The VPN is currently offering an
exclusive 82% discount to all BestDroidPlayer readers
, and you can get it below!
How to Install Weyd App on Firestick and Android TV
Weyd is not available on the Amazon Store or the Play Store due to the nature of its operation, meaning that we'll need to sideload it, and for that, we'll use an app known as Downloader. The app is available on both the Amazon Store and Google Play Store.
Step 1: Install Downloader
Since Downloader is available on Google Play Store, all you need to do is open the app on your device and search it. On Firestick, you can do that using the search option.
On the main page, hover over Find then click Search.

In the search bar, type Downloader and click search.

The app should be displayed as the first option. Select it and click Download.

After the download and installation, you'll now get the Open option. There is no need to open it yet; just go back to the home screen.
Step 2: Enable Installation from Unknown Sources
After installing Downloader, you'll now need to allow your device to install third-party applications downloaded through the app.
While at the device Home screen, go to Settings and select My Fire TV. The option is Security & restrictions on Android devices, although this may vary with the manufacturer.

Open Developer options (Skip this for Android TV).

Turn on Apps from Unknown Sources.

If you are using Firestick Gen, Firestick Lite, or Android TV, the option will be Unknown Apps. Once you select it, you will see Downloader, and you can then click it to turn on the option.


You can now use Downloader to install apps. However, you should also consider disabling data sharing to enhance your privacy if you have not done so (in addition to using a VPN).
Go back to the home screen click Settings > Preferences > Privacy Settings. Now, turn off "Device Usage Data" and, most importantly, "Collect App Usage Data."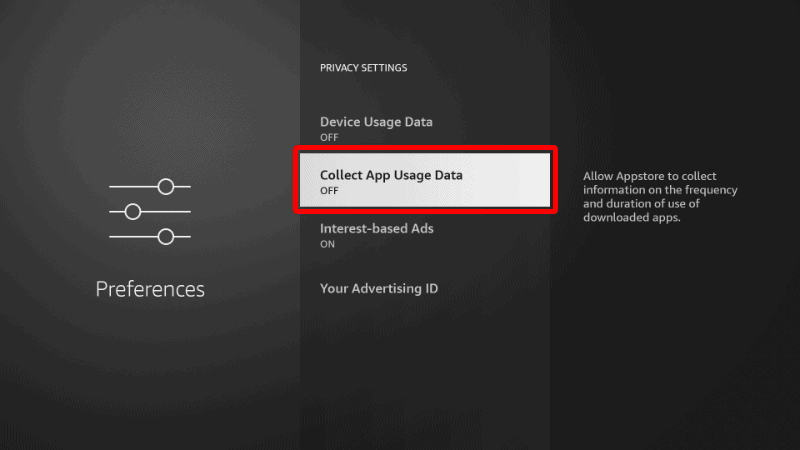 Now you'll prevent Amazon from collecting data on the apps you use.
Step 3: Install Downloader Browser Plugin (Android TV)
If you are using Android TV, you will need to install Downloader's browser plugin before starting using the app. Here's how to do so:
Open Downloader and go to the URL section. Type browser.aftvnews.com and click Go.

The app should now start downloading, and you'll be prompted to install it. Click Install.

After the installation is complete, click Done.

You'll now get an option to delete the file and save some space. Click Delete then Delete again.

Step 4: Install Weyd App on Firestick
To install Weyd App on Firestick, we'll use the Downloader app we've just installed.
Open Downloader and go to the URL section. Type the URL weyd.app/d and click Go.

The app should now start downloading,

You'll then be prompted to install it. Click Install.

After the installation is complete, click Done.

From there, you'll get an option to delete the apk and save space. Click Delete and then Delete again to confirm.

After that, go to your apps section, and you will find the new app.
How to Set Up Wed App
After you install WeyApp, you should be able to scroll through the app and see various titles and their information. However, you won't be able to stream them. For that, we'll need to do a few things:
Create and add a free Weyd account
Add the Weyd App scraper
Add a Real-Debrid account
From there, you should be able to stream your favorite titles in HD.
Step 1: Create and add a free Weyd account
The first thing you need to do is create an account. The service offers a 7-day free trial.
Head over to https://weyd.app/account/register and create an account then confirm it.

Now, log in using your new account. On the dashboard, click Subscriptions.

You should now see the free trial option. Click, "Request a Trial," and it will be activated immediately.

Now:
Open the Weyd app and click Settings.

Select Subscriptions.

Now, click Connect Device.

The app will give you a code.

Open weyd.app/device and enter the code provided. You can also enter a name to identify the device, as you can use one Weyd account on up to 5 devices. After that, click Create, and the account should be added.

You should see a success notification on the browser.

We can now go and add the scrapper.
Step 2: Add the Weyd App Scrapper
To set the scraper:
Open Settings from the left-side panel, then scroll down and click Scraper.

Select Scraper Source URL.

Now, type https://tinyurl.com/weydx into the textbox and click Ok.

It should now look like this.

Step 3: Add a Real-Debrid Account
Lastly, we need to add a Real-Debrid, Premiumize, or AllDebrid account.
Under Settings, click Accounts.

You can now select the service you want. In this guide, we'll use Real-Debrid.

Weyd will now throw a disclaimer to warn you that the app is not affiliated with the link service you are about to add. If you have Surfshark, you should be fine. Just click Yes.

You'll now get a code that you can use for authentication.

Go to real-debrid.com/device and add the code.

You will receive success notification on the browser.

From here, you can go ahead and select a title. You should be able to see the synopsis, trailer, play button, and cast.
Click Play, and you will get lots of magnetic links that you can choose from.
Check out other Firestick App Installation Guides
Wrap Up
Weyd is an app worth checking out, especially if you have a Real-Debrid account. The app uses a clean, simple interface, and it provides an excellent streaming experience. The guide above should help you install and set up the Weyd app within a few minutes. However…